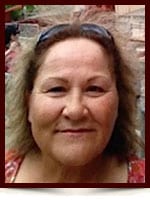 Carol Cornish
Carol Cornish, born July 26, 1951, passed away suddenly on July 5, 2016 after losing her battle with cancer.
She leaves behind her daughter Wendi (John) and three grandchildren: Ayla, Niamh and Kade. She was pre-deceased by her father George Cornish and mother Rose. She also leaves behind her siblings: Allan, Roy, Joan and Rosemary, as well as a number of relatives.
Much gratitude is given to Ken Hill and Dianna Bryant-Scott for the care and companionship provided for Carol over the last few months, your support was the sunshine in her days.
ln lieu of flowers the family ask that a donation be made to the Canadian Cancer Foundation in honor of Carol