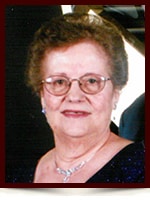 Carolina Giuseppina Danese
On August 15, 2013, Carolina Giuseppina Danese of Edmonton passed away at the age of 76 years.
Carolina is survived by her husband, Michele Danese; three sons, Franco (Elaine), Giuseppe (Rosa), and Antonio (Patrizia); six grandchildren, Carolina (Giovanni), Michael (Heather), Stephanie, Jennifer, Melissa and Daniel; three great grandchildren, Preston, Antonio and Gabriele; sisters and brothers, Dora (Vincenzo) DePalma, Roberto (Rosa) Capone, Margherita (Franco) Perri, Baldo (Chantal) Capone, Immaculata Capone and brother in law Franco Rossi as well as numerous nieces and nephews. She was predeceased by her parents Maria and Carmine Capone and sisters, Anna Maria Bagart, Olga Capone and Gerarda Rossi.
A special thank you to the doctors, nurses, and staff at the Robbins Pavilion on the 6th Floor West, Royal Alexandra Hospital for their care.
Prayers
8:00PM Tuesday, August 20, 2013
Santa Maria Goretti Roman Catholic Church
9110-110 Avenue Edmonton, AB
Mass of Christian Burial
10:00AM Wednesday August 21, 2013
Santa Maria Goretti Roman Catholic Church
9110-110 Avenue Edmonton, AB
Entombment
Holy Cross Mausoleum