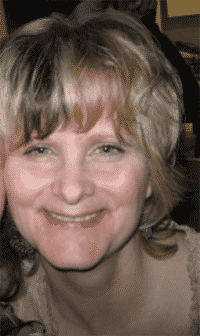 Caroline (Kriket) Dawn Wilkinson
It is with immense sadness that I announce the passing of a dear soul, Caroline (Kriket) Dawn Wilkinson. She was a loving mother, a dear friend to many, and a spiritual leader to many more. Caroline (Kriket) passed away suddenly and unexpectedly on Sunday February 28, 2021 at the University of Alberta Hospital from a Pulmonary Embolism
at the age of 54. She was a woman who lived life passionately with an amazing sense of humour and compassion. She was one of the best listeners you will have ever come across and she exuded calm in a way that made most people feel at awe and peace after meeting her once.
Caroline (Kriket) was born on March 21, 1966 and was adopted by John and Betty Wilkinson in Edmonton, Alberta. Her family moved to a farm in Thorhild, Alberta in 1972. There she had many duties on the farm, some she took to more readily than others. Once she was caught hiding instead of doing the dishes and after she was found, was forced to do the dishes by herself for a week. This was not an unusual occurrence.
She never shied away from working with animals, however, and had taken great care of  her rescue horse, Whiskey, growing up. She often enjoyed trail rides with her sister, Kelly and  generally getting her sister into trouble. She was an avid reader from an early age and seemed to  have so much curiosity for the world. Caroline (Kriket) was also fiercely independent and was once  thought missing when she didn't come home from school only to later be seen on the TV show,  Popcorn Playhouse, where she decided to attend on a whim one afternoon instead of coming home.  After high school she moved to Camrose, Alberta and attended the Camrose Community College  earning her a Degree in Developmental Psychology which she used as a Paralegal with the  Government up until her passing. She enjoyed her work tremendously and it wasn't surprising that  she ended up working to help less fortunate individuals. She always had a strong sense of right and  wrong.
At twenty years old she had her first child, Pamela who was adopted by her brother, Larry and his  wife, Glenda. She recognized she was too young to give her the life she deserved and never  regretted the decision. They connected later in life and developed a profound relationship filled with  love, compassion and usually some much needed advice. When Caroline (Kriket) was twenty-four,  she had Kynen and one year later Natahne who were the lights of her life. She took to the challenges  of raising them virtually single handed with strength, compassion and tenacity, something which both her children admired. Caroline (Kriket) also loved to add laughter into her children's' lives. She once  asked her son, in front of all his friends before a lacrosse game, "did you remember to eat your  chunky soup?" and to this day he still remembers it fondly. She had a very strong bond with her  daughter, Natahne and was planning to buy a house with her in the near future. Caroline (Kriket) was  always there to listen and offer advice and was truly proud of the success all of them had managed to  achieve. She cared for them unconditionally and her love will be impossible to forget.
Other than her children, her biggest passion was her Shamanism. She was a practicing Shaman for  25 years and a teacher for 15 of them, although she would say she could hear and walk with spirits all  her life. In her time on this Plane, she managed to touch hundreds of lives and has left an immense  impact on this community. She was brilliant, insightful, a healer and amazingly compassionate. She  could make you feel like a best friend after one meeting. She was a fox that could fetter out your  innermost experiences and leave you feeling content and heard. Kriket also had no qualms letting her  frustrations through, especially if you started snoring during Journey and would not so gracefully  wake you. She was a master of traversing Spirit and the Mundane world and did so with tremendous  grace and humility.
She will also be remembered as an adventurous spirit. She traveled the rainforests of Peru, Vietnam,  Haida Gwaii and even climbed a mountain while traveling with a broken foot because she didn't want  to miss a thing. She was also a teacher and wished to share her knowledge with many. She created  over 130 podcasts with varying topics in Shamanism. She was an amazing storyteller and had led  many drumming circles. Caroline's (Kriket) memory, however, will not be forgotten. She leaves  behind her three children, Pamela Wrobel and husband Fred, Natahne Nelson, Kynen Nelson and girlfriend Charlie, two grandchildren William and Celine Wrobel, her oldest brother Larry Wilkinson  and wife Glenda, her second brother Stephen (Dale) Wilkinson, her sister Kelly Frayn and husband  Alex as well as her father, John Wilkinson. She will be missed by many nieces, nephews, cousins and  countless dear friends. She also leaves behind her two fur-babies Keesa and Kasira which have been  adopted by a close friend.
The family asks that any donations you wish to make in Caroline (Kriket)'s name be put towards the  not-for-profit organization Youth Empowerment and Support Services. She offered warm chats and  an even warmer presence. She left this world too soon and will be missed dearly by all her friends  and family.
Due to Covid restrictions, Caroline's Funeral Service can be viewed at
https://youtu.be/X_Y7pXbC8iU