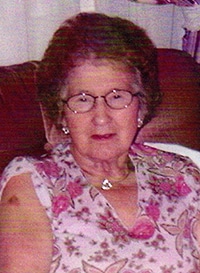 Cassie Onyschuk
Oct 13, 1933 - July 18, 2020
It's with great sadness that Cassie Onyschuk, passed away at her home on July 18, 2020, peacefully with her family by her side. She is survived by her children Joyce (Wayne) Post, Deb (Wayne) Ginter, Jim (Wendy) Hupka, 14 Grandchildren and their spouses and 21 Great grandchildren, many nieces and nephews.
Cassie was predeceased by her husband Bill, son Lawrence, grand daughter Tanis, daughter in law Laurie and dear friend Jerry Hawkins.
She was also predeceased by her parents Steve and Mary Hupka, Charles and Anne Onyschuk. Brothers, George, Steve, Nick and Alex. Sisters, Doris, Kay, Helen, Anne, Elsie, Rosie and Olga.
Cassie was the 10th child of 12 and the last of that generation.
Cassie grew up in Barich, Alberta (north of Smoky Lake) Growing up on the farm was hard work. Tending to the animals such as milking 8 cows before going to school was a normal way of life.
 Mom attended the White Mud Creek School where she completed her 8th grade. A one room schoolhouse which still stands today.
At a young age, Mom learned to continue all the Ukrainian traditional Religious beliefs, as well as preparing the food.
A bit of a tomboy, she would become her father's shadow. She would talk about working on the farm with him and how much he taught her about farming. As she grew up, she would then work for other farmers.
She loved riding horses (bareback no less)
Cassie and Bill Onyschuk were married on Nov 26, 1952 and they lived in Redwater for about a year. They moved to Edmonton and lived in the Westmount area. They bought a 2 room house in the Jasper Place area and lived there for about 4 years. They then moved to the Beverly Area, then to the Athlone neighbourhood and finally to the Delton and Balwiin neighbourhoods.
Always a hard working lady, who did not know the meaning that it can't be done.
Cassie endured so many health issues over the years, beating breast cancer not once, but twice. She never felt sorry for herself and wondered why me?
Mom loved Bingo Night, dancing, playing cards (especially with Rick), camping trips, cooking & baking her famous poppyseed cakes for her grandchildren as they grew up. Everyone loved Baba's surprise poppyseed money cakes. All the grandchildren loved to receive a quarter wrapped up in foil inside their slice of cake.
Wayne and I are so grateful that we had such a wonderful time with mom over the last year. Always a story to tell us or just laughter throughout the day. A phone call from Jim or her grandkids would make her day. Always asking when they would be coming over for a visit. Aunty Vicky and Jerry would visit regularly, Doreen, Sharon and Donna would call or stop by whenever they were in Edmonton. Mary Berner called weekly. Angie Hupka called regularly before moving to Medicine Hat, Alberta.
There are so many Special Angels who took such good care of Mom. Dr.Richard Chan and his staff, Loida, Joanne & Elsie. Dr. Nancy Zhu and her staff, Palliative Care Nurses who were always a phone call away. Home Care Nurse Robin, Dynalife staff, U of A Outpatient Nurses for all of Mom's transfusions and last but not least, our daughter Corry who was continuously here to help with her Baba.
To all of you, Thank you for your phone calls & visits as well as your well wishes. Mom was so blessed to have all of you in her life.
Mom has been cremated and she will be laid to rest at St.Peter & St.Paul Church at Eastgate (near Redwater, Alberta) on Saturday August 8, 2020 at 1 pm.The service will be officiated by Father Alexi.
Due to the Covid Virus, the burial will be by invitation only. We will have a Celebration of Life for Mom at a later date, where we can all join in Celebrating Cassie Onyschuk.
In Lieu of flowers we ask that you donate blood in memory of Cassie Onyschuk. Give the gift of life.