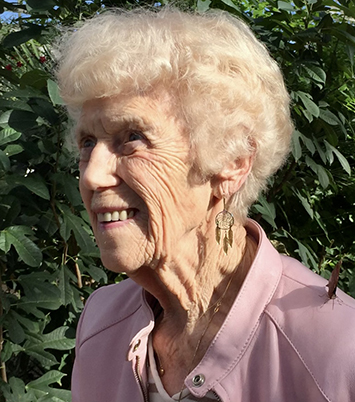 Catherine Evelyn McFarlane
July 30, 1926
-
November 7, 2022
Catherine Evelyn McFarlane passed away at 96 years of age on 11/7/2022. "Evelyn" was selfless, kind, compassionate, and caring. She had the most beautiful smile that lit up the room, and she always enjoyed a good laugh.
Family was everything to Evelyn, she and her husband Arch would attend all their sons' activities in full support and encouragement whether that meant driving to Red Deer or Calgary on a weekday. This commitment continued with their attendance to all their grandsons' activities while in Arizona.
Evelyn's family traveled to Penticton for most summer vacations as Jay and Brent grew  up. There were many trips to the USA but their fantasy trip came true when they took the grandsons to Disneyland staying at the Disneyland Hotel.
Family was emphasized again at Sunday dinners where all family members attended. Evelyn was an amazing cook and she was able to master any type of cuisine.
Evelyn and Arch always wanted to make the McFarlane name proud. This meant all family members' actions were to represent integrity and success through each generation.
Evelyn had a short modeling career and also worked at the Misericordia Hospital, with several accolades, for 12 years.
Evelyn will be missed by many but she proudly left an amazing legacy on this earth.