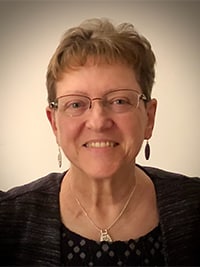 Catherine Pearson
Cathy was born on February 4th, 1956 in Barrie, ON. She grew up in an airforce family, living in Cold Lake, Rivers and finally moving to Edmonton in 1969. Her days as a youth were spent hanging out on the base at the recreation & teen centres. Bush parties were a frequent event for the teens on the base. They would also hitchhike/bus into the city to hang out with friends, party at the social centres in town and make trouble at Northgate Centre (okay… maybe not Cathy). In 1971 (or 1970 according to Rick), Cathy and Rick started dating. In 1973, Cathy graduated from Archbishop O'Leary High School and in February of 1977 her and Rick got married and moved to Vancouver. After two years of "enjoying" the winter west coast rain, she decided it was time to return to sunny Alberta and they moved back to Edmonton. Over the years, Cathy utilized her administrative expertise, working for multiple companies and spending most of her career (29 years) at the University of Alberta.
Two of the most important milestones in Cathy's life occurred in May of 1981 and October of 1990 when her daughter Deanna and son Michael were born.
Cathy was an amazing, loving and proud mother. She made sacrifices and cared for her children more than anything. She was a protector and stood up for her kids. She was their biggest cheer leader, encouraging and believing in them no matter what. She was there to listen when adversity came and the comforting arms when they needed it. She was a role model, teaching her children to be respectful, responsible and loving.
Cathy was a loving wife. She was committed to her relationship of almost 50 years, through the good times and the bad. That commitment was one of her most enduring qualities as a wife. But there were many other things Rick loved about her too. She led the way when resolutions of conflict were needed. When she committed to a cause, her dedication was unwavering and she had a caring compassion for helping others through tough times. Her attention to detail regarding personal fashion brought out her beauty. And the sound of her voice on the phone was always a comfort. Cathy was an amazing wife.
Cathy had many passions in her life, most of which involved spending time with others. Whether it was socializing at events, shopping and eating out, or traveling across the country to visit friends and family, Cathy knew that the most important things in life were the relationships she had. She made a great effort to be everyone's friend and wasn't afraid to make sacrifices for others. Cathy also loved travelling throughout her life to warmer places, especially Mexico and the Caribbean. She enjoyed reading fiction novels and watching sci-fi movies/shows. Later in life, she tapped into her creative side and became a dedicated card maker through Stampin' Up, sharing her passion with family and friends through home workshops.
Cathy was a fighter and a survivor from day one on this earth. She was born 10 weeks early after almost suffocating and spent 63 days in an incubator. She fought to survive and she did. In 2010, she was diagnosed with borderline type 2 diabetes. She adapted her lifestyle and she kept living. In 2013 she was diagnosed with breast cancer. She underwent surgery, chemotherapy and radiation. She fought and she beat it. She became an inspiration to others with breast cancer and she participated in the Run for the Cure every year. In 2017, she had a heart attack and after having 3 stents inserted, she fought to recover and came out with a heart that was just as strong as before. On July 29th, 2019, she was diagnosed with stage 4 endometrial cancer. The doctors said she was terminal, but she chose to fight anyways. Chemotherapy, alternative treatments, diet changes and prayer led to regression of the disease in the fall of 2019. In early 2020 however, the disease was growing again. So she kept fighting, doubling down on her treatments and adding radiation therapy. On April 12, complications with the disease led to her being admitted to the hospital, in the midst of a pandemic. She was told she didn't have much time left. She spent two and a half weeks in the hospital, with no visitors allowed, and she fought like hell to get well enough to go home, to see and hold her family again. On April 29, she was discharged from the hospital and spent the next 24 days at home, surrounded by her loving family and friends. She could finally stop fighting and she could rest. On May 23, 2020 at the age of 64, the Lord called her home and gave her peace.
Cathy is predeceased by her parents Edna and Leo Ricketts, her mother and father in-law Verna and Ken Pearson, her sister Denise Hilbrecht and brother-in-law Larry Fermaniuk. Left to cherish her memory is her husband Rick Pearson, her daughter Deanna Romanchuk (Tyler), her son Michael Pearson (Dawn Hodder) and her cat Mittens as well as her sister Janet Fermaniuk (Guy Garneau) and her sister in-law's Heather O'Neill (Jack), Brenda Pearson (Jules Jones) and Deb Maltby (Stephen). She is also survived by a large extended family.
A small private funeral is being held for Cathy's close family. Inurnment and a Celebration of Life will be held at a later date when all of her family and friends can gather together to remember and celebrate the gift of her life and the impact she had on so many. If you'd like to share positive stories, memories and photos of Cathy, please visit her Facebook page which has been memorialized. The family will also post details there about the Inurnment and Celebration of Life when dates are set.
Cathy's son Michael will be participating in the Terry Fox Run on September 20th and the Run for the Cure on October 4th. In lieu of flowers, please consider honouring Cathy by sponsoring Michael with a donation for one of these events. You can do so at:
http://www.terryfox.ca/michaelpearson
http://support.cancer.ca/goto/michaelpearson