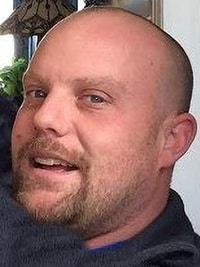 Chad Wesley Daniels
It is with deep sadness that the family of Chad Daniels of Plamondon, Alberta announces his passing. Chad died suddenly at home on February 9th, 2021.
Born on Feb 10th, 1980 in Nanaimo, BC, he was the much-loved son of Randall Daniels and Elizabeth Madson (Blezard).
He was a loving husband and a proud and devoted father. Chad is survived by his wife, Anna (Samoilov) and his four children. He will always be missed and never forgotten by son Nikita and daughters Malania, Anastasia, and Jordan.
Chad was a loyal brother to Cory, and to Andrew (Kelty), and Michelle (Pete). He was predeceased by his stepbrother Christopher in 2015. Chad was a brother-in-law, cherished nephew, cousin, and uncle. He will be fondly remembered for his positive attitude, kind heart and willingness to help others. We all have lots of good memories of happy times together.
Chad grew up in BC and Saskatchewan, became a skilled heavy equipment operator, and worked on numerous projects in Alberta. He had many friends and co-workers who were like brothers to him.
Chad believed in God's word. He was a gentle soul who dreamed big and planned a bright future. His memory will stay forever in our loving hearts.
Cremation has taken place.
May he rest in peace.
A summer memorial is being planned.