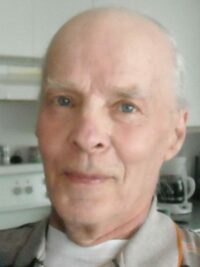 Charles Gordon Agate (Chuck)
Passed Away
March 11, 2021
It is with broken hearts and a profound sense of sorrow and loss that we announce the passing of Charles Gordon Agate (Chuck) on March 11,2021 at the age of 78 in Edmonton, Alberta. Chuck was born in Medicine Hat, Alberta on December, 11, 1942. He passed in the comfort of his home surrounded by the love of his family.
Chuck will be forever remembered and missed dearly by his loving wife and best friend of 43 years, Gwen, his eight children and 11 grandchildren: Bradley Grant, Christopher (daughters Sonja, Jessica, Samantha, Danielle and Madison), Bradley Richard (daughters Hailey and Rosie), Gordon (Amanda, sons Charlie and Joseph), Steven (Kitta, sons Kalel and Diem), Nicole (Dustin), Sheri-Lynn and Brandon. Brothers Bill (Doreen), Skip (Kathy), Ray and countless more family and friends. He is predeceased by his parents Richard and Grace, sisters Dorothy and Joan, and brothers Don, Dave and Bob.
Chuck was an electrician by trade with over 45 years in the industry. He received his master's certificate and went on to work and gain titles in fields such as instrumentation and design.
Our father was a passionate, loving and encouraging teacher, admired for his incredible strength and patience. He was kind, giving, and selfless and would not hesitate to lend a helping hand to anyone in need. On thanksgiving he would always say that he was thankful for his family. He was proud of his family and looked at his grandchildren with immense joy and a twinkle in his eyes.
Dad loved baseball, golf, and hockey. He always looked forward to the Oilers games, never missed a Blue Jays game and watched every tournament on the golf network. In his earlier years, he helped coach his son's little league baseball teams and loved to golf any chance he got.
He was our personal chauffeur and alarm clock. He made the best chili, chop suey, beef stew, and spaghetti sauce. He absolutely loved his chocolate, sweets, and desserts of any kind to the point that it became a running joke in the family and an unspoken rule to bring Chuckie a treat when you came to visit.
Dad was a silly, fun-loving man who loved to joke around and make people smile and laugh and he always made sure to let us know that he was still the best looking one in the bunch. He was known endearingly as Chuckie and Charlie Marble to his loved ones.
He will be greatly missed and may we all take comfort in knowing that his suffering has ended and he has returned to the loving arms of our Lord and Saviour, Jesus Christ.
No service will be held at this time, although we look forward to a day when we can safely gather with our extended family and friends to remember the life of an amazing man, our beloved Chuckie.
We thank everyone so much for their love and support at this difficult time.
May he rest in peace
Amen