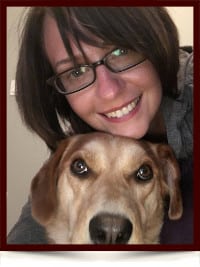 Cheryl Lynn Boyle
It is with great sadness that we announce the passing of Cheryl Lynn Boyle (March 12, 1985 - February 1,2017).  Cheryl fought a couragous battle with Aplastic Anemia.  She passed peacefully surrounded by loved ones.
Cheryl is survived by her husband, Andrew (Drew) Boyle, her mother Heather Thompson, father Gill Hemmes, brothers Robert and Devon Hemmes, Grandfather Don Patterson, Grandmother Laura Lemky, Grandma Carla Patterson, step mother Joan Hemmes, niece and nephew Aiden and Aria Hemmes, and of course her fur baby Hunter.
I want to take this opportunity to thank everyone for their love and support through the last few days (really the last 2 years). We lost Cheryl in body,but her spirit will forever be with us. She showed me that true love does exist and I know she will always be looking out for me and our little girl, Hunter.  I loved her more than words could ever say. She was my heart, my soul and everything good in me. This was never exclusive to just me. She had the same effect on everyone. Even those she never officially met. That's the mark of a truly special person.
You were all special to her. Her grumpy, her nieces and nephews, brothers, parents, friends, and of course "her girls" :Amanda, Kyla, Heidi, Jill, Kaitlyn, Meghan, Jenn, Jess; the list goes on and on. You all know who you are. Her desire to fight was not limited to me. It was all of you as well.
Tonight, tomorrow and for the coming weeks,months and years, We are devastated. We lost a beautiful person in every sense of the word. But in time we can all take solace in the fact that we had the time we did. Cheryl was never someone who would want us to be sad forever. She would want us to carry on and live our lives the way she did; without regrets.
I thank you all for your love for my "bunny". She meant the world to me. I thank you all for your out pouring of support to me. I wouldn't be able to begin to heal without your love. It will take a long time for my heart to heal, but to have you all at my side will help.
I will love you forever Mrs Cheryl Boyle. Thank you for everything you gave to me. You rest now my love.
A Celebration of life will take place on Friday February 10th, 3:00PM at the Royal Canadian Legion Kingsway Branch 14339 50th street, Edmonton. Please where purple or bright colours as Cheryl was a bright and vibrant person.
In lieu of flowers, please make donations in Cheryls name to the Stollery Childrens Hospital or Kids with Cancer Society.