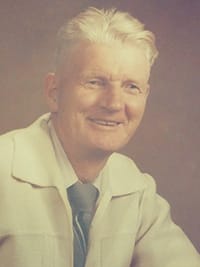 Chester Gordon Calvert
June 24, 1926 - July 6, 2018
Chester Gordon Calvert, originally from Spruce Field, AB passed away on Friday July 6, 2018, at the Edmonton General Continuing Care Centre with his loving, long-time companion Akaporn "Pon" Saksomvas, at his side.
He is survived by three sons: Gordon of Edmonton, Wayne of Grimshaw, and Glenne (Irene) of Edmonton, three daughters: Gayle (Terry) Spinks or Arvada, Colorado, Cheryl Jensen (Rick Sissons) of Cranbrook, BC, and Charlene Lumsden of Edmonton, AB, eight grandchildren: Tiffany Calvert, Terry Calvert (Danielle), Jonathan Calvert (Cindy), Angela (Darren) Cobick, Laurie Calvert (Jarrett Roberts), Dale Spinks (Darcrea), Daniel Jensen (Vanessa Baldwin), and Triana Jensen (Bob Morros), and 14 great – grandchildren. Chester is also survived by 3 of 11 siblings: Jessie Stals, Jeanette "Nettie" Sale, and Evelyn McGuire.
He is pre-deceased by five brothers, three sisters, and one great granddaughter, Danieka Marie Calvert.
To remember Chester, family and friends will be gathering at his home on Sunday, July 15'th from 1 – 4 PM.