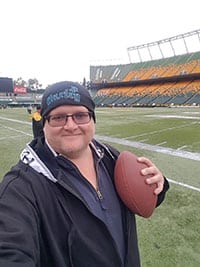 Christopher Jared Moulton
It is with incredible sadness that we have to announce the sudden passing of Christopher Jared Moulton. A beloved son, father, brother, cousin, uncle, nephew and friend left us on October 23rd, 2019, at the age of 45, in Edmonton, Alberta.
Chris was a loyal member of the International Brotherhood of Boilermakers for 17 years.
He will be remembered by his mother Dana, sister Shannon, brothers Michael, Garth and Eric, children Phaeton, Olivia, Baileigh, Devon, Tyler and their mother Joanne. He is predeceased by his father Craig Moulton, who passed when he was very young and his cousin and best friend Doug Davis, who passed just four years ago.
He was the proud Coach of his son Phaeton's football team spending many evenings at football games with his son. Chris was always a generous host and many a Christmas, Halloween and birthday party were spent reveling in the memories made with his closest family and friends.
He had an generous spirt, a loving heart and was dependable to a fault. He was intelligent and handy, a veritable master craftsman and jack of all trades, able to build anything he could dream of. His optimistic perspective of the world and enthusiasm for cooking were quintessential Chris. His sincerity and strength were essential to his essence and he made an incredible impact on all of the people whose lives intwined with his. He was a dedicated father who will be missed immensely.
Celebration of Life
1:00PM Saturday November 9th, 2019
St. Matthew's United Church
2035 26A ST SW Calgary, AB