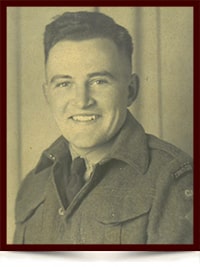 Clarence 'Jim' Stern
On October 22, 2017 Clarence 'Jim' Stern of Leduc passed away peacefully at the age of 94 years.
He will be forever loved and remembered by his family: brother, Ray (Ruth) Stern; nephews, Gerald, Brian (Erna), Lorne (Zorena), Bradley (Lorelei), Neil (Debra), and many great nephews and nieces.
Clarence was predeceased by his parents: Michael and Emma (Herman) Stern; brothers, Art, Ernest (Edna), and Emil.
Born to German homesteaders on the bald prairie of Alberta, Clarence was the fourth child of Michael and Emma. Clarence spent a simple life growing up on a farm milking cows, feeding chickens, geese and pigs, and working with horses.
World War II interrupted Clarence's youth and he joined the army in 1942. He did not see action overseas, because the ship he was on turned back after receiving word the war was over in Europe. He then served different assignments across the country until the war in the Pacific came to an end.
Clarence became a pipefitter and worked in Northern Canada and many refineries across Alberta. He achieved gas, water, and steam certification, and was one of the oldest members of the Plumbers and Pipefitters Union 488.
In retirement, his love of horses and racing led to his ownership of thoroughbreds. He also camped in his truck camper and panned for gold in Edmonton's river valley. Clarence also traveled abroad to Japan, Israel and Panama. Most importantly, he came to know Jesus as his Savior and was received into God's family through the waters of Holy Baptism.
Clarence's friendly demeanor made a great impression upon his family and many others.
Funeral Service
Thursday, October 26, 2017,1:30 pm
St. Peter's Lutheran Church
5012-51 Avenue, Leduc, AB.