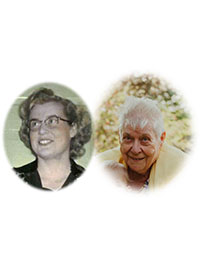 Clark, Evelyn Mae  (nee Reed)
April 5, 1939
-
April 10, 2021
Evelyn Mae Clark passed away on April 10, 2021, five days after her 82nd birthday in Edmonton, Alberta, 253 km north of her birthplace Three Hills, Alberta
She is survived by her 4 children: Peggy McFall; John and Debbie McCrimmon; Vivianne Todd and Robert Karpinski; Dwight McCrimmon and Tracey Richmire.  
Evelyn is survived by her grand (and great-grand) children: 
Ricky McFall and Jasmyne Pederson, (Logan and Harper) 
Katie and Brett Pelletier, (Paige and Aubrey)
Trick Horan and Ezra Costanza
Mike and Nikki McCrimmon (Lilliana)
Amanda and Tyler Gerard (Charleigh)
Tyler McCrimmon; 
Tiffanie McCrimmon and Tyler Kurtz (Abigail-Jean). 
Evelyn is survived by her sweetheart Graham Pfister.
Evelyn Reed married Malcolm McCrimmon in 1958 and they raised a family, farming west of Ponoka.
The McCrimmon kids were treated to a "book reading" by Mom every morning before the school bus and every evening before bed.  Evelyn began working outside the home in 1974, once Dwight started school. She worked with Ponoka Home Care for several years and H&R Block during tax season (until 1991).  In 1979, Evelyn and Malcolm sold the farm and moved to Morningside with their two youngest children.  Evelyn obtained her Secretarial Science, Accounting Major, diploma, in 1980 and began working for the Psychiatric Nurses Association of Alberta.  In 1986, her marriage to Malcolm ended after 28 years.
Evelyn then began what would become her greatest passion.  In 1986, Evelyn received her Travel and Tourism certificate.  She had several short-term positions in the travel business until she was hired by Parson's Holiday Tours in Lacombe.  Evelyn loved to travel and share the travelling experience with others, whether it was taking a group of retirees on tour to various locations across Canada and the U.S. or later, traveling with Vern around Canada.  After returning from each vacation, she would spend many hours creating volumes of photo journals detailing each trip.  If there was an occasion, Evelyn had a photo journal for it and would gladly share her book with you, along with her personal anecdotes.
Evelyn married Vern Clark in 1994 and lived in Calgary.  Evelyn retired in 1995, followed by Vern in 1999.  The couple moved to their retirement home in Coronation, Alberta.  They were always off on some adventure or another, to places like the Maritimes, Alaska, and many lesser-known historical sites in western Canada.  Sometimes they traveled alone, sometimes with grandkids in tow or on occasion they met with family or friends at planned destinations.  Evelyn and Vern were married for 22 years, until Vern's death in 2016.  
Evelyn was diagnosed with Macular Degeneration in 1999 and while she did not let this stop her, it certainly frustrated her.  Losing her eyesight was especially difficult because she enjoyed and valued reading.  The CNIB helped by providing audio material, magnifying glasses and a talking watch.  Local libraries helped her pick and provided audiobooks.  Unlimited phone minutes allowed Evelyn better contact with family and friends, if she wasn't on the phone, she wasn't home.
Lucky in love, Evelyn met Graham in the last few months of her life.
Evelyn was always excited to see and visit with her grandchildren and great grandchildren.  She would love telling stories of how the visit went.  
Evelyn enjoyed nature and could always be counted on to name that bird - once you described it. Throughout her life she enjoyed the company of numerous pets.
Mom, now that you are in heaven, with everyone who went before…  "How's the weather up there?"
We love you Mom
In memory of Evelyn please donate to WWF (World Wide Fund for Nature), NCC (Nature Conservancy Canada), or CNIB Foundation
A formal service will not be held at this time.