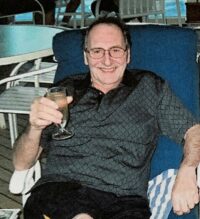 Claude Edmond Clement
May 28, 1938
-
November 7, 2021
It is with great sadness we announce the passing of Claude Edmond Clément on November 7, 2021 at the age of 83 at the Covenant Health Edmonton General Palliative Care Centre. He leaves behind his wife and best friend of 66 years, Suzanne (Lacroix) Clément. He will be deeply missed by his children, Louise Clément, Conrad (Cathy) Clément and Yvonne (Brian) McClinchey. He also leaves behind his grandchildren, Christopher (Kayleigh) McCorkell, Shane McCorkell, Danielle (Brett) Zon, Jonathan (Rebecca) Clément, Nicholas (Elyse) McClinchey and step grand-child Brooke McClinchey. His great- grandchildren present (Ryker) and future will only know him through the memories that family will share with them.
Claude was born in Timmins, Ontario in 1938. As a teenager, he loved to play hockey (goalie) and played guitar in a band. He was a man who was bright and self-taught and never shied away from a challenge. He first worked as a miner, followed by a career in policing and electronics. He found his true passion in sales with Colgate Palmolive and the latter of his career was with Polaroid Corporation where he fulfilled an amazing career in Marketing until his retirement. He was a man of honour and integrity who taught his children to lead by his example. He had the ability to be the "gramps" each grandchild needed, and spent hours teaching and sharing his wisdom with them. He had a passion for photography and had an incredible eye for the most exquisite photographs.
Family had the honour of taking photography trips and some of his best talks and words of wisdom were shared in those moments. Some of his happiest times were spent hunting and fishing in Northern Alberta and Northern Ontario's Bromley Lake. He taught fishing secrets to the Gillis family who he treated as his own grandchildren.
A special thanks goes out to our family physician Dr. Lou and the entire team at Covenant Health Edmonton General Palliative Care Centre for supporting Claude, our mom and the family in this most difficult time. They were caring and treated our father with the dignity he deserved.
Cremation has taken place and a private family celebration of life will be held at a later date. In lieu of flowers donations to the Covenant Foundation (Compassionate Care & Programs) would be greatly appreciated. The funeral arrangements have been entrusted by Trinity Funeral home, Edmonton, Alberta.