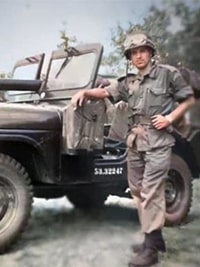 Claude J. Labelle
Claude Joseph Labelle, 77 years of age, of Grande Cache, Alberta, passed away peacefully in his sleep after a battle with Alzheimer's on Thursday November 19, 2020.
He was predeceased by his parents, Andre and Marguerite (nee Ipperciel) Labelle.
Claude leaves behind a large family. He is survived by his wife Ginette (nee St. Gelais) Labelle; his three children - Brigitte Labelle, Donald (Jennifer) Labelle and Daniel Labelle; four grandchildren - Natasha, Brendon, Justine and Zach; and Hudson - his only great-grandchild.
He is also survived by his three sisters - Denise (Wayne) Rutledge, Madeline (Franco) Piccolo, Andrea (Francesco, dec.) Piccolo and four brothers - Gerry (Maria) Labelle, Serge (Jan) Labelle, Gilbert (Judy) Labelle and Henri (Linda) Labelle as well as many loved nieces and nephews.
Claude was born on May 14, 1943 in Granada, Quebec and grew up in Quebec and Ontario. As a young adult Claude enlisted in the army, eventually progressing to be a guard in the Royal 22nd Regiment stationed at the Citadel in Quebec City. After leaving the army he moved to Windsor, ON, then met his bride Ginette and started a family. He had always loved pictures of the Canadian Rockies and felt like the West was calling for him. With this dream in mind, he found a welding job at a mine in the remote coastal outpost of Stewart, BC, and in 1972 he packed up his young family to start this new life.
By 1974, Claude (who became known to many as C.J.) was recruited by a coal mine in the mountain town of Grande Cache, Alberta which remained his home for the rest of his life. After 12 years he left the boom/bust cycles of mining and bought the local Shell gas station. As he did with everything in his life, he jumped in with both feet, put in many dedicated hours and operated a successful auto service and towing business for almost 30 years.
If you were ever waiting on a tow call, you could probably find Claude on the golf course, trying to finish up his round before he had to get on the highway! Golf was hands down his favorite activity and there were many of us who spent time with him at the local course.
Some things that we loved about Claude:
• He loved kids and supported kids' sports. He spent many years at the rink coaching hockey, assisting in all levels of the local minor hockey association and along with Ginette was involved in the local figure skating club.
• He was such a good sport. Like that time at a family Christmas gathering when he fell backwards into the tree. Well his nieces couldn't let this go without photographic proof, so the tree was quickly reassembled, and Claude happily re-enacted the whole scene!
• He loved to talk to people. If you said hi to him, he may have told you he was too busy, but he would still talk your ear off.
• He loved to entertain! If you attended one of Claude and Ginette's many parties (New Years, Christmas, Staff Parties, Murder Mysteries, the list goes on) he certainly would have made you a delicious Caesar, or if he had enough time, he would put on a real show and make his signature cocktail - The Unknown Soldier (created by melting a sugar cube on a fork over a shot of vodka and Cointreau that caused mini "explosions" that sounded like a soldier firing his rifle). Claude loved this, even though his wife has indicated several forks were burned in the making of these cocktails.
• He was first and foremost a family man. He worked extremely hard, so that he could provide for Ginette and the kids and be with them. Much time was spent on activities such camping, fishing, golfing, skiing, snowmobiling – usually outdoors and always together with family and friends.
Claude was an outgoing, generous, dedicated man who was visibly proud of his family. Now they can show their pride for him by sharing these memories with all the people whose lives he touched.
We would love to gather all Claude's friends and family to hold a celebration of life, but due to the pandemic, he will be commemorated with an online memorial soon. For now we can all honor Claude by remembering him through our stories and doing our best to live life in a way that he would be proud of.
Claude's family wishes to thank everyone for their support and well wishes. In lieu of flowers donations can be made to the Alzheimer's Society of Canada in Claude's memory.