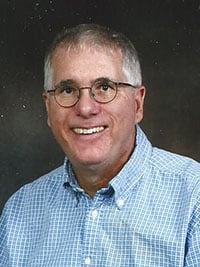 Clifford John (CJ) Rhamey
August 25, 1957 to June 11, 2018
CJ started his life journey in 1957 and grew up in New Liskeard, Ontario. He was an active Boy Scout and possessed a passion for learning and self-improvement. These characteristics, along with a high level of initiative, a strong work ethic, perseverance and an ability to get along well with others, resulted in his success in developing personal and business relationships based on trust, loyalty and respect. As a child and as a young adult, CJ struggled with speech disfluencies. He worked diligently throughout his adult life to improve his public speaking abilities by using new speaking skillsets he learned in 1982 from an intensive three-week speech therapy program, which was offered by the Institute for Stuttering Treatment and Research (ISTAR) at the University of Alberta (U of A), by being an active Toastmaster, and by making a concerted effort to verbally articulate his views without disfluencies when talking with his family and friends.
CJ completed a Bachelor of Commerce degree at Carleton University in Ottawa. Upon graduation in 1981, he moved to Edmonton and worked for Syncrude Canada as a junior internal auditor. In 1984, he joined the Government of Alberta (GOA) and began his 25+ year finance career as a public servant in various GOA ministries. In 1992, he earned his Certified General Accountant's (CGA) designation. His career focus was on government programming and budget management which led, in 1995, to his becoming the Senior Manager, Financial Planning, Correctional Services Division, with the Alberta Solicitor General and Public Security Ministry, where he was responsible for the financial administration of the Alberta Adult and Young Offender Centres. In 2005, CJ undertook the Senior Advisor role for Financial Reporting and Operations for the Ministry's Corporate Services Division. In 2008, he left the Ministry and advanced to the position of Director, Election Finances, Office of the Chief Electoral Officer. In this role, he was responsible for the financial reporting of political parties, candidates, and constituency associations and for the Office's budget management and for the financial operating/reporting of a general election. Throughout his public service career, in an efficient and effective manner, CJ ensured strong administrative practices were maintained to achieve desired results both for on-going government program services and for new initiatives, to facilitate accountability and financial stewardship of public funds.
In 2012, CJ was diagnosed with cancer which necessitated a career end and the commencement of an extensive treatment/recovery period. During this period, CJ believed he had three major blessings to help him with his new challenges. First, he met Adele Lewchuk, his companion, who brought much joy and purpose into his life. As well, she became his regular bridge partner. Second, his mother (predeceased), his sisters, his many bridge friends at the Edmonton Bridge Centre, and his many non-bridge-playing friends all provided much needed support. Third, CJ enjoyed the company of his dog, Max, whom he adopted in 2013 from the Edmonton Humane Society, but CJ often wondered who was truly being rescued.
CJ had a "make the most of what you have to work with" philosophy, adopted a life attitude of gratitude, and maintained a positive and optimistic outlook in all his undertakings. His resilience in body, mind and spirit enabled him to often exceed likely outcomes. CJ's favourite memories, activities, and interests included going on holidays with his children, Paul and Emma, to Disneyland in 2008 and going on numerous camping trips to Alberta's provincial parks, Jasper, and Banff; reading bridge books and other books authored by Jeffery Archer (e.g. Clifton Cornicles) and Linwood Barclay (e.g. No Time for Goodbye); listening to "classic rock" music from the 70's to the 90's; volunteering for numerous not-for-profit organizations in leadership and/or in worker-bee positions; enjoying a variety of movies (e.g. comedy, family, action, and the odd "chick flick"); taking a boat ride with Adele on the "Maid of the Mist" in Niagara Falls, Ontario; walking with Max at the local dog park; as well as attending many bridge tournaments with Adele in several provinces, California and Bermuda. In November 2017, CJ earned his Life Master bridge designation. CJ especially enjoyed the Christmas season, embraced the cold of the winter, and the beauty of freshly fallen snow. Summer was his time to focus on gardening and relaxing around the house. CJ exercised regularly to keep fit. He was very proud of his 100+ blood donations to help others in need. He really enjoyed hosting his family and friends for various gatherings throughout the year and he often surprised them with his cooking and dessert making abilities. Dinner ranged from a hot dog over an open fire to a full turkey dinner, with all the trimmings, followed with a piece of home-made apple pie.
CJ lost his battle with Cancer on June 11, 2018. Left to cherish his life are his companion, Adele Lewchuk; his sisters, Mary Wochesen (Paul), Jean Rhamey, and Anne Silverthorn (Jim); his nieces, Andra Wochesen (Tom), Tara Wochesen, Melanie Lazaris (Louis), Jessica Zhi (Zhu); and his children, Paul Rhamey and Emma Rhamey. They, along with his bridge and non-bridge playing friends, and his past colleagues, have many fond memories of CJ and will value his contributions to their lives. CJ had a life well lived.
The family would like to acknowledge the excellent care CJ received from the following: Dr. Hadi Seikaly, Dr. Nabil Rizk, and the staff at the U of A Hospital, Dr. John Walker, Dr. Brock Debenham, and the staff and volunteers at The Cross Cancer Institute, Dr. Trent Dusang, and the staff at Strathcona County Home Care.
Following his cremation, a celebration of CJ's life will take place at Sherwood Park United Church in Sherwood Park on Saturday, June 23, 2018 at 11:00 a.m. Interment will take place at a later date at Hutcheson Memorial Cemetery, Huntsville, Ontario.
Memorial donations may be made to the Institute for Stuttering Treatment and Research (ISTAR) online at istar.ualberta.ca, or to the Edmonton Humane Society online at edmontonhumanesociety.com, or to a charity of your choice.
"Remember to Believe – to think and act as all is possible in life"