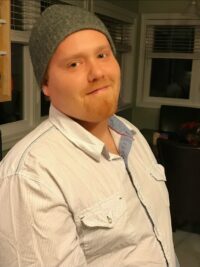 Cole Rowan Colley
October 15, 1987
-
April 21, 2021
With sad hearts the family of Cole Rowan Colley, 33, share his unexpected passing on April 21st, 2021 in Edmonton, AB.
Born in Fort McMurray, AB on October 15th, 1987 to Wayne Morris Colley and Anita Jeanine Peever. He graduated at Composite High School in Fort McMurray. Cole was a simple person, not asking for much, lived life how he wanted and loved full heartedly. He had a love of music and was well known with his friends for having entertainment gatherings with his band, "Easily Distracted". He pursued his passion for the culinary arts, creating many relationships, friendships and menus. He worked his way up as a Chef for several well known restaurants in the Edmonton area, earning high regards among his peers for his creations and his family and friends always got to enjoy the fruits of his labor.
He is survived by step father Roy, brothers Russell (Des), Bruce, Jason, sisters Leneah (Jeff), Cara, Chèré (Rob), Carrissa, Amber, nephews and nieces Ben, Emily, Jake, McKenna, Hunter, Lauren, Brynn, Hayden, Rylee, Kyptin, Jacob, Beckham, Bodhi and Hartley.
He was predeceased by his father Wayne, mother Jeanine, brother Roth and many dear family and friends.