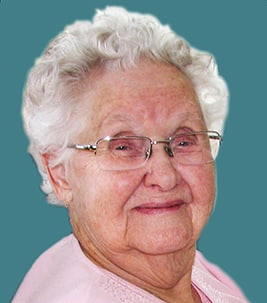 Cora Pearl (Copie) MacMillan (nee Sannes)
A full century of a life well lived is a wonderful thing. Copie MacMillan left us this gift as she peacefully departed this life on December 10, 2020. Born to Ed and Blanche Sannes in Lake View, Minnesota on April 8, 1920, she grew up alongside her little sister and best friend, Marion, on her family's farm near Provost, Alberta. It was in Provost that she met her future husband Jack MacMillan. She attended Normal School at the University of Alberta and taught school in Hughenden and Barrhead while waiting for WWII to end and Jack to return from the Navy. They were married in Cadogan (near Provost) in July, 1946. They recently celebrated their 74 wedding anniversary.
Most of their married life was spent in Edmonton where they raised four children – Jack, Kim, Robert and Marion. She was a happy, stay-at-home mom while the kids were little, but later returned to teaching English at St. Albert High School. She loved teaching, and students she met later as adults attested that she was an inspiration to young people; they felt she genuinely respected and believed in them.
Copie's Christian faith was central to her life as she fulfilled many roles as a charter member of Kirk United Church, her spiritual home for most of seven decades. She may have been the most well-read lay person in the congregation as she devoured books of theology and cutting edge Biblical studies. She was always open minded and was more concerned that her church meet the needs of younger people than cater to her own needs or those of her generation. Over the years Copie and Jack provided accommodation, support and guidance for many intern ministers who valued her friendship, quiet wisdom and gracious listening.
Her children remember their mom as warm and supportive, yet having high expectations and firm boundaries. They were never in doubt that they were loved and they felt free to explore and to grow into the unique individuals they were meant to be. She often spoke of how proud she was of her kids and the adults they became. She was equally proud of her grandchildren Trevor, Keith, Neil, Elizabeth, Kevin and Ross and her great grandchildren Nate and Faith. Valued members of her family included the partners of her children and grandchildren: Susan, Barbara, Alan, Amber and Jeff.
In later years, Copie gradually lost her eyesight and much of her mobility and experienced chronic pain from a lower back injury. Though it became more difficult to stimulate her considerable intelligence through her beloved reading, she accepted these limitations without complaint and with the same grace and dignity that she had lived her life. She was very grateful for the loving and devoted care that Jack provided throughout these years.
Copie passed away just as she wanted to, in her own home and in the presence of her husband and close family. She had said her goodbyes, expressed her love and had that love expressed in return. While her family will miss her sorely, it was a good end to a rich life. Her legacy lives on in the people she has loved so well.
COVID regulations will limit the family to a very small memorial service and plans are forming for a larger virtual celebration of her life at a later date.
Those who wish to make a donation in Copie's memory may do so to the United Church Mission & Service Fund (https://united-church.ca/donate) or the Canadian National Institute for the Blind (https://cnib.ca/donate).