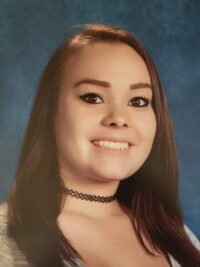 Coral Desiree Loutitt
August 8, 2000
-
December 31, 2022
"Imperfection is beauty, madness is genius and it's better to be absolutely ridiculous than absolutely  boring." 
― Marilyn Monroe 
On the Eve of 2023, Coral Desiree Loutitt left the world of the living quietly and peacefully - something  that would likely surprise her considering the ball of energy that she was. Coral was the epitome of Leo - she just loved to have fun and be ridiculous. She lived in the moment, and she lived a whole lot of life in  not enough years. Whether Coral was being herself or masquerading around as her alter-ego 'Maddy',  she lived a life worthy of its own television show. Coral lived according to the beat of her own drum and  made life interesting for everyone around her. 
While everyone around her was finding their place to fit in, Coral was always standing out. From being a  farm girl being raised in the city, to becoming a cheerleader, to her shenanigans pulled straight out of an  episode of Shameless or the Ozarks, Coral lived a unique life which made her one of a kind. 
Coral was born in Edmonton Alberta, but if you knew her, she'd present herself as a Trump-loving  Republican. Coming from a mixed ethnicity family, Coral faced identity issues regarding race. Towards  the end of her life, she made peace with her heritage. Of all the battles she fought in her life, that was  one of the biggest, which she ended up winning in the end. 
Coral was fascinated with trauma and spent a lot of her life learning about it. From watching medical  dramas like Grey's Anatomy to crime dramas, such as Criminal Minds; to researching mental illness and  things like cognitive behavioral therapy for her own purposes, she understood the pain people were  going through in their lives and wanted to find a way she could help others. While she battled her own  demons, she had hope for the future, and she shared that hope by doing her best to live life to the  fullest. 
One of Coral's great joys in life was cooking for others. Her love language was feeding people, and she  turned the chore of cooking for groups into one of her favorite endeavors. From making hundreds of  dollars of sushi as a little girl, to perfecting her turkey and mashed potatoes year after year, the love she  put into her cooking was the love she shared with her friends and family, which is why there were  always leftovers. 
Coral is survived by her family, who meant the world to her: her husband Radu (Gabe); her mother  Connie, sister Charity, and brother Cameron; her nephews who she loved more than anything in the  world: Gage and Elijah; her loving grandparents Desiree and Chuck Loutitt and Laurent Cloutier; her  great-grandparents Joan and Gordon Dye; as well as her beloved Aunts Cora, Tammy, Sarah, and  Crystal. Coral is lovingly remembered by her uncles Robert, Rae, Dale, and Gordon, along with many  other cousins and far too many friends to mention. 
No amount of words can specify how special Coral was. She was the perfect example of "You just had to  be there." From her ups to her downs, her trials, and tribulations and how she handled them left an  impression on everyone around her. She was cunning and had a powerful presence which made her  impossible to forget. She was a character to remember, and although she is gone now, her presence has  made the life stories of all she encountered all the better.
If Coral could share a message with the world, it would be twofold. She would tell us "Love Yourself, Life  is Beautiful" and "Vote Trump 2024." In all seriousness though, Coral would want us to know our past  doesn't define our future, and life is too short to play by the rules all the time. Don't allow your mistakes  to dictate where you are going in life, and when life seems dark, remember that the caterpillar must go  into a chrysalis to become a butterfly. 
"The only difference between saints and sinners is that every saint has a past while every sinner has a  future." 
― Oscar Wilde