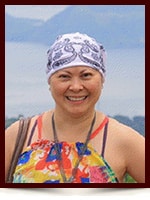 Cynthia De Ocampo Araneta
May 25, 1962 – April 26, 2013
Cynthia peacefully passed away on April 26, 2013, after her long, off-and-on battle against ovarian cancer. She died at the age of 50.
Her two daughters, Patricia and Pia, son, Paolo, and husband, Arnel will miss all the love and attention she unselfishly gave to her family. She will be affectionately remembered by her parents – Mel & Jean, and by her siblings Dennis, Chiqui, Bob, Pinky and the rest of the family. Relatives, friends and co-workers will always be reminded of her shy yet radiant personality.
Cynthia now rests in peace with our Creator Almighty Father. She is an angel that reminds us that we are all here on borrowed time and the life that we have is worth sharing with love and generosity.
We all love you, Cynthia, and we will miss you so much.
Memorial Service
11:00AM Wednesday May 1 2013
Good Shepherd Catholic Church
18407 – 60 Avenue, Edmonton, Alberta
Memorial Donations - Donate Online Now
Ovarian Cancer Canada
205-145 Front St. East
Toronto, Ontario M5A 1E3