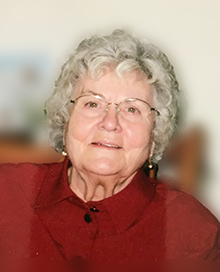 Cynthia LeEllen Hanna
Passed Away
March 6, 2021
Cynthia LeEllen Hanna (MacLaren) passed away peacefully on March 6, 2021. 
She was born on June 13, 1926 in Wayne, Alberta and later grew up in Canmore, Alberta, where she was happiest barefoot in the meadows, skied and climbed the mountains which she loved. Cynthia graduated from nursing at the Holy Cross Hospital and then attended McGill University where she graduated from Public Health. 
After graduating she assisted in establishing and developing the first Public Health Units from Camrose to Provost, Alberta. For many years following Cynthia dedicated her nursing career to care for the seniors; working for the Good Samaritan Society and ended her career working for Alberta Health Long Term Care Branch. She had great compassion and touched many lives during her career. 
But in her own words, "my greatest accomplishment was being a mother to four beautiful, wonderful children whom I love and cherish. I am truly blessed."
Cynthia is predeceased by the love of her life, John Adams Hanna, two brothers Alex and Ken, forever sister Gretta (Walter) Kaasa and two sons-in-law Sandro and Gary.
She is survived by her children LeEllen (Guy), Leslie, Cindy (Larry), Bill (Laurie) and grandchildren Neil, Stuart, Andre, Nicole, Sheila, Phil, Leanne, Diana, Johnathan, Lauren, Jayden, Christine, Laura, Amy, Jack and Alex. Cynthia was overjoyed when great-grandchildren came along and she loved them all. 
Cynthia will be remembered for her sense of humor, strength and her deep faith which she would share with those around her. In her later years she was always grateful and continued to believe she had been truly blessed. She was a gracious, kind woman who will be truly missed by all who loved her and were blessed to have her touch their lives and love them.
In lieu of flowers, donations may be made to a charity of one's choice, in Cynthia's name.