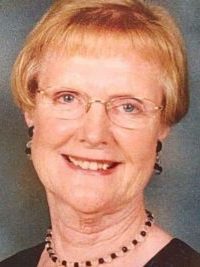 Cynthia Leonard
Passed Away
January 29, 2021
On January 29th our beloved mother, Cynthia Leonard, passed away at the age of 88.  Cynthia was a wonderful wife, mother, grandmother and great-grandmother whose love  knew no bounds. 
Cynthia was born in Sale, Cheshire, England where in 1953 she met and married the  love of her life, Peter, igniting a love affair that would last over 60 years. Cynthia and  Peter immigrated to Edmonton, Canada in 1956 where they settled and raised four children. Cynthia was predeceased by her loving husband Peter, her parents Stanley  and Marjorie Jacques and her grandson Steven. Cynthia is survived by her four children: Barbara (Stan), Norma, Ian (Christy), Vanessa; eight grandchildren: Caroline,  Christine, Karys, Hannah, Jordan, Kaiti, Abigail, Chase; seven great-grandchildren; her  brother Rodney Jacques (Anne) and many nieces and nephews. 
Over the years she volunteered with numerous organizations and charities while also  serving as the secretary of Rio Terrace Moravian Church. It has been said by many  people over the years that Cynthia could have organized and run the Roman Empire  with more efficiency than anyone past or present, and we have always believed this to  be true. She was, in one word; amazing. Cynthia had an undeniable passion for life.  She was an incredible dancer, performing with the Momma Rockettes for over 20 years.  She loved toby jugs, reading, bridge, dominoes, theatre, and travel. In retirement, she  travelled the world with Peter to New Zealand, Australia, Europe and of course, England. They also felt blessed to spend winters in one of their favorite places, Cabo  San Lucas, Mexico. 
It should come as no surprise that Cynthia had specific wishes that "flowers are lovely  but instead, if friends so desire, please donate to your local chapter of the Alzheimer's  Association and help us end Alzheimer's." We are looking forward to a celebration of life  once conditions permit us to gather again.