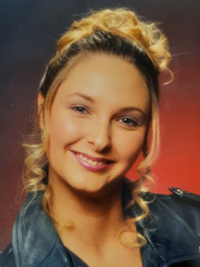 DALLAS BARBARA MICHELLE SINGER
Passed Away
March 19, 2021
DECEMBER 17, 1981 – MARCH 19, 2021 (AGE39)
Singer, Dallas Barbara Michelle. On March 19, 2021, at the age of 39, Dallas passed away in her home. Dallas was born in Edmonton, AB, on December 17, 1981 to the late Gary Paul Singer and Judy Singer.
Dallas is survived by her mother and her daughter Emma Truong of Calgary AB. She is also survived by her Grandmother, Pauline Singer of Halifax, NS. She also leaves behind her most cherished dog, Milo.
Dallas was predeceased by her dad Gary Paul Singer and grandparents, Mike Desgagnes, Muriel Desgagnes and Graham Singer, as well as a number of aunts and uncles.
Dallas was a beautiful, kind and considerate person. She loved her family & cherished her daughter Emma. Dallas struggled with mental illness as well as mental abuse.
GRIEF IS THE LAST ACT OF LOVE WE HAVE TO GIVE TO THOSE WE LOVED
WHERE THERE IS DEEP GRIEF, THERE WAS GREAT LOVE.
WHEN I LOST YOU
I WISH I COULD SEE YOU ONE MORE TIME,
COME WALKING THROUGH THE DOOR...
BUT KNOW THAT IS IMPOSSIBLE,
I WILL HEAR YOUR VOICE NO MORE.
I KNOW YOU FEEL MY TEARS
AND YOU DON'T WANT ME TO CRY,
YET MY HEART IS BROKEN BECAUSE
I CAN'T UNDERSTAND WHY SOMEONE
SO PRECIOUS HAD TO DIE.
I PRAY THAT GOD WILL GIVE ME STRENGTH
AND SOMEHOW GET ME THROUGH...
AS I STRUGGLE WITH THE HEARTACHE
THAT CAME WHEN I LOST YOU.