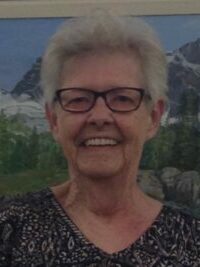 Dallas Sophie Blanche Asselstine
September 29, 1936
-
August 30, 2021
It is with great sadness and love that we say goodbye to our sweet Dallas, who passed away on August 30, 2021.
Lovingly remembered by her husband, Herbert Clayton Asselstine; children: Colin and Crystal (Clint); grandchildren Brandon, William and Naomi; sister Iris; brothers Raymond, Jackie, Kenneth and Casey along with extended family and friends. Predeceased by parents Hubert (Bert) and Doris, sisters Doris (Jean) and Joan; brothers: Eugene (Billy) and Dennis.
You touched so many lives with your kindness, acceptance, and selflessness. Your love for family and life, your strength, your beauty, grace and gentle disposition will be remembered dearly by everyone who was blessed to have known you.
We will miss your sweet, sweet smile, your laugh, your being. If only.... If only we had one more chance to hug you, one more time to kiss you, one last way to comfort you as you did for us.
Always in our thoughts, our hearts and forever loved. We love you much a bushel.
No service will be held. In lieu of flowers please feel free to make a donation to the Alzheimer's Society of Canada or a charity of choice.
Heartfelt thanks to the medical, care and support staff who helped Dallas through her journey. Many of you became extended family and we are truly grateful for your kindness and compassion.