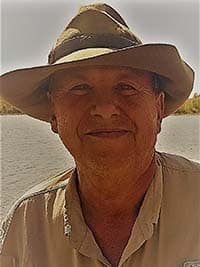 Daniel John Walton
March 3, 1956 – May 17, 2018
Wildman Dan Walton walked off into the wilderness for the very last time when his ticker gave out on Thursday May 17, 2018, at the age of 62 years. As he faded off into the distance, we could almost hear him say, "Adapt, improvise and overcome. So, that's what we will do.
If you would like to help wave him off on his last adventure, there will be a viewing on Tuesday May 22, 2018 at 1:00 – 2:00 pm at Trinity Funeral Home (10530 -116 ST NW, Edmonton), followed by a Celebration of Life at the St. Albert Legion at 3:00 pm (6 Tache Street, St. Albert). Bring your favourite Dan story to share.
Also, in the style of Dan, a casual fire/party will take place at the farm in Easyford (50019 Range Road 85) on Saturday May 26, 2018 2:00 pm and onwards. Pot luck contributions are appreciated, but not necessary. Flannel plaid shirts and ratty hats are optional.
In lieu of flowers – because Dan would hate that kind of fuss – a donation to Ducks Unlimited would be appreciated. Dan would like that a lot.
Dan liked to say that the Waltons put the FUN in dysFUNctional. Thanks, Dan. These are some of the people who loved hearing him say that: his wife of 30 years, Shirley McConnell, step-children, Heather Sherban, Jamie McConnell and Garrett McConnell. Dan will also be remembered by his grandchildren, Colby-Ann, Kristin, Jenna, Chloee and Emmily; and great grandchildren, Luna, Lux and Ivy; by his mother Joann Walton, siblings, Bill, Juanita, Carolyn (Maurice) Walton-Kay, Peter (Lorraine) and Dallas; nieces and nephews Terri-Lynn, Earl James, Sara, Gage, Marshall, Alexander, Daniel, Kaitlyn and Shelby. These are the people who left on their adventure before him: his father John Edward (Trapper) Walton, his sister Darlene Walton, his niece Jennifer Walton Robertson and his nephew Kory Robertson.
Dan was a military brat, spending his childhood in Minden (Germany), CFB Petawawa (Ontario) and CFB Griesbach (Edmonton). After that he was just a brat.
His greatest passion was the great outdoors. As a child, he would usually be found in the woods making lean-tos, camping overnight, canoeing, rafting, and whatever he could think of to be there. Frankly, we were glad. It was the only thing that calmed him down. His favourite pastimes, all through his life, were wilderness camping, fishing and hunting. He even made his life's work revolve around the wilderness.
In 1978, he graduated from the Forestry Technology Program at NAIT and was a Forester Ranger for 11 years. In 1989, Walton Woodlands was created with his wife, Shirley, so he spent many more years in the wilderness, involved in a variety of endeavours, such as setting up camps for regeneration and planting projects. It was during this time that he adopted his signature uniform; khaki or flannel plaid shirt, khaki shorts, suspenders and dirty, ratty hat.
Always looking to expand his mind, in his forties he received an EMBA in 2002 from the Ivey Business School at Western University. He couldn't believe that the school accepted a hick farmer like him. Dan was about as classy as bringing a block of velveeta to a wine and cheese party.
Dan enjoyed his time in the north, as general manager or executive director for Indigenous bands in northern Alberta. That led him into local politics, as a Councillor for Brazeau County, as well as being involved with the Wildrose Party of Alberta in various capacities. After they had enough of him, in 2006 Dan and Shirley established Easyford Meats on Fort Road, which ran until 2017.
Dan talked fast, talked a lot, and cooked a lot. He lived to the fullest. Have a great trip, Dan!