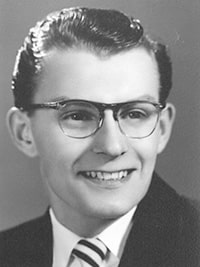 Daniel Zuke
God saw he was getting tire and a cure was not to be. So he put his arms around him and whispered, "Come with me." With tear-filled eyes we watched him suffer and fade away. Although we loved him  deeply, we could not make him stay. A Golden heart stopped beating, hardworking hands put to rest. God broke our hearts to prove to us he only takes the best.
Love Elsie and Family.
Daniel is survived by his loving wife Elsie, children Chris (Joan), Gene (Louise) and Dani-Lynn and their families.
At Daniel's request, cremation has taken place and no services are to be held.
Memorial Donations
Stollery Children's Hospital Foundation
800 College Plaza, 8215 - 112 Street
Edmonton, AB T6G 2C8