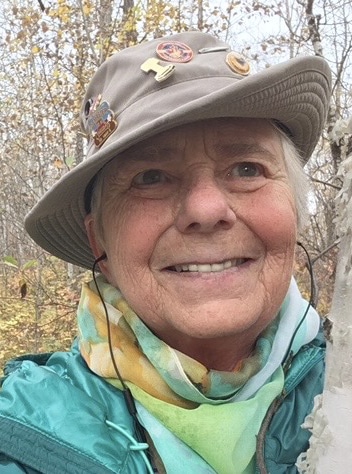 Danielle Louise Carbonneau.
 September 7, 1945 – January 2, 2021
It is with great sadness we announce the sudden passing of our friend Danielle Carbonneau.
Danielle was a free spirit who embraced life with her adventures of travel and relished her moments spent in the great outdoors (skiing; the Ranch; horses). She participated in many groups making new friends along the way (West Edmonton Seniors/Walking Club and Central Lions Recreation Centre), but she also enjoyed her alone time being artistic doing wood carving, painting and lately her willow crafts.
Danielle was predeceased by her mother Laurette Sauvageau; aunts Simonne and Rejane Sauvageau; her grandparents Sauvageau and her father Roger Carbonneau.
Now Danielle leaves behind her extended family of friends in both Quebec, Alberta and very special friend Julie Paquette to mourn her loss.
A Celebration of Danielle's Life will be held in the future.
We will all enjoy reminiscing about Cookie.
Donations to The Edmonton Humane Society can be made in Danielle's honour.