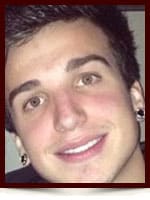 Darren Christopher Steele
Darren Christopher Steele passed away suddenly on September 1, 2015 at 23 years of age in Sylvan Lake, Alberta. Darren was a wonderful young man who left behind his parents, Chris and Tamara Steele, and Nancy (nee Elson) and Dave O'Keefe, and stepfather Dan Scott; his siblings, Madison, Megan, Devon, and Matthew; stepbrothers Reegan and Garyn; his grandparents Lloyd and Jeannine Elson, and Bill and Anita Holmes; his aunts Kim (Roger) Williams, Nicole (Jeff) Khalife, Sherry Steele, and Marla Elson; cousins Penny and Michael, Charlotte and Anthony, Leah and David, and Shaelyn.
Darren was predeceased by his grandmother Vivian Steele and his uncle Lloyd Elson. Darren was a loving and kind person who was always interested in others. He had a warm personality that immediately welcomed everyone and put them at ease.
He was attentive and caring and always noticed the needs of others. His fantastic smile could light up any room and always did. Darren truly loved people but he also loved all animals and had many pets throughout his life including dogs, hedgehogs, turtles, and a horse. Darren loved hiking, motorcycles, cars, playing video games with his brother, travelling, music, and of course his clothes! Most importantly, he loved his siblings. He was forever looking out for them as an older brother should. It was so important to him that they were happy, and safe, and involved in the things that they loved. He wanted the best for them always.
Darren will be deeply missed by everyone who had the privilege to know him. He was such an amazing person, always learning, always growing, always ready to try something new, always positive. We will miss you Darren, and we will miss your big warm smile, your way of making everyone feel special, your sense of humour, and your gentle soul. We love you so much that it is heartbreaking to say goodbye.
Celebration of Life
Friday September 11, 4:00PM
Spruce Grove Alliance Church
250 Century Rd, Spruce Grove, AB
Memorial Donations
May be made to Darren's GoFund me
account via Facebook
May you rest in peace.