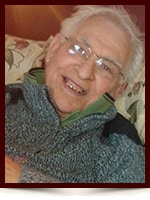 David Allison
August 24, 1932 - February 28, 2013
It is with heavy hearts we announce the passing of our Dad, David Allison. He reunites with his father, Gilbert Allison; mother, Gertrude Allison (nee Place); siblings, Owen, Bessie, Marjorie, Ina and Bernard; and our little Sebastian.
Dave was born in Hull Yorkshire, England and immigrated to Canada at the young age of 18. He resided in Edmonton, Alberta after traveling the world and working construction in the Great White North. We are very proud of his accomplishments as a Journeyman carpenter and his involvement in the stock market. We will always remember our down-to-earth Dad for his love of seafood, playing the horse races and quirky fondness for Julia Robert's movies. His genuine kindness was noticed by all and we are especially grateful to his friends at Meadowcroft, as well as the numerous HealthCare Aids, LPN's, RN's and physiotherapists who cared for him these past few months. A special thank you to Dr. Richard A. Wiznura for his care and his kindness.
Left to continue his legacy are his children, Dwayne (Eileen) Catholique; Michelle Tripe'de'Roche, Kimberley Manick; Mark Tripe-de-Roche; grandchildren, Jessica and Honey Rain; and furry companion, Dolly.
Cremation has taken place and a memorial service is being planned. Please email michellegenee@gmail.com for further details.
Sweet is your memory
Precious your name,
Deep in our hearts,
You will always remain.
We love you Dad~