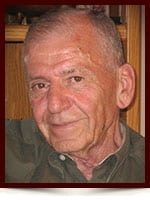 David Maurice Folinsbee
April 5, 1931 – July 1, 2016
In St. Albert, Alberta on Canada Day, 2016 David passed away peacefully, surrounded by his family, from complications of C.O.P.D.
David leaves Jean, his loving wife of 60 years, sister Joan, brother John (Joan), children Michael (Lyne), Barbara and Tom (Sachiko), grandchildren Heather, Nicolas, Patrick, Elodie, Luke and Jake and great-grandchildren Savannah and Jeremiah.
Born and raised in Toronto, David had many talents. He was Ontario junior table tennis champion. At age 15 a choirmaster fortuitously introduced him to Badminton. In 1949, at age 18, he became badminton pro at the Calgary Glencoe Club. He quickly rose to general manager. David served as executive director of Badminton Canada and Badminton Alberta. He was a true pioneer, influencing the course of many lives. In 2015 David and Jean were inducted into the Alberta Sports Hall of Fame.
There will be a Celebration of Life for David in the fall of 2016 at Red Willow Badminton Club.
The family extends gratitude to David's caregivers at Sturgeon Hospital. Memorial gifts may be made to the hospital foundation, or a charity of your choice.