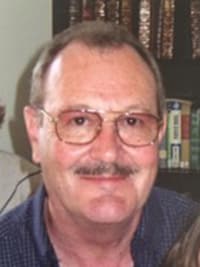 David Peter Brauti
It is with deep sorrow and much love that we mourn the passing of David.
He was our protector, a great defender of the family and always helped out anyone who needed him.
David leaves behind his loving wife of 50 years, Pierrette; son, Stephen, daughter Suzanne, grandchildren: Cole, Cy and Grace; brothers: Alvin (Sandy) Brauti, Paul Brauti and Edward (Melanie) Bremner; sisters: Nora (Ron) Warren, Clara (Dave) Tanner, Colleen (Butch) Lamming, Lorna (Gutsche) Bremner and Doris (Jay Riddle) Bremner; nieces, nephews, cousins and many friends.
He is reunited with God along with his father, Gunnar A. Brauti, mother, Desanges (Loutitt) Bremner, stepdad, William T. Bremner, and sisters, Hilda (Carol) Fuller, Lillian (Hartmann) Brauti and Mary (Altenhofen) Bremner.
We will always treasure David's natural talent for music and song and for the fond memories.
Holy Mass
11:00 AM Tuesday March 20, 2018
St. Albert Catholic Parish
7 St. Vital Avenue St. Albert, AB