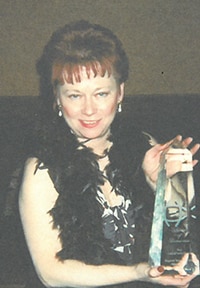 Deborah Colleen McKay (Skoryeko)
Deborah Colleen (Skoreyko) McKay was born in 1961 in Edmonton, Alberta, youngest of three children of Stephie (Shayka) and Mack Skoreyko.  Debbie attended Lauderdale and Princeton Elementary, Balwin Jr. High School, and M.E. LaZerte High School as well as St. Michael's Ukrainian Orthodox Church where she attended Sunday School and enjoyed Ukrainian dance.
Debbie's career was in the insurance industry.   She met the love of her life (Glen McKay) while working at London Life and in 1992 they were married at St. Michaels Church.  In 1996 they were blessed with their amazing son Dayton Johnathan who instantly became the centre of their lives.  Debbie, Glen and Dayton enjoyed camping, fishing and frequent trips in their motorhome.
Debbie was predeceased by her husband, Glen (2009) and her father, Mack Skoreyko (2014).  She leaves to mourn her son Dayton; partner Andy McEvoy;  her mother Stephie Skoreyko; brother Dennis (Darby) Skoreyko; nephew Christopher (Rebecca) Skoreyko with great nephew Brodie-Mack; nephew Daniel Skoreyko; sister Darlene Skoreyko-Brady (Ron); niece Bianca Brady (Dayne McGuire-Lavallee); nephew Brandon Brady; as well as many aunts, uncles, cousins and friends.
Memorial services to be held Tuesday, May 14, 2019 at 2:00PM at Trinity Funeral Home 10560 – 116 Street Edmonton, Alberta
Debbie will take her final resting place next to her beloved husband Glen, at St. Stephen's Cemetery.