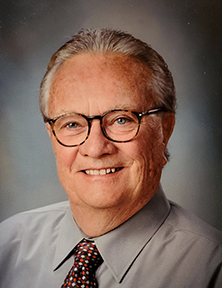 Dennis Edward Wilson
March 1, 1938
-
July 17, 2021
On July 17, 2021 at 83 years of age Dennis Edward Wilson of Edmonton Alberta was welcomed into Glory with a "Well-done my good and faithful servant".
Dennis was born March 1, 1938, in Wainwright AB, the only child of Robert and Cora Wilson.  In his teen years the family moved to Lloydminster AB where he completed his education.
Dennis had a diverse career starting part time in his youth with Nelson Lumber then progressing to sales manager of their home packages.  Dennis then joined Manufacturers Life Insurance (Manulife) as a financial planner and Insurance broker until 1978.  He was also a co-owner of a commercial construction and leasehold company. Dennis served as a City of Lloydminster alderman for a short period of time.    His experience includes Church planter, Pastor and founding President of a Christian television broadcasting society affiliated with Trinity Broadcasting Network. He began a new career path directed by his love of God and in 1986 became an ordained minister.  With a heart to see souls come to Jesus he was the founding Pastor of Edmonton Family Worship Centre.   From humble beginnings a small group met in a school on Edmonton's northside to grow and ultimately purchase a church building in downtown Edmonton.   Dennis was very committed to the vision of the Full Gospel Business Men's Fellowship and is a founding and honorary director. Dennis would say he received more from them than he ever gave.. with the opportunity to be a leader of men and the privilege to testify and teach across Canada, the USA, and overseas.   Dennis is a published author of several books.
In 1994 Dennis and Gladys moved to British Columbia.  Dennis was always interested in vehicles new and old and had a couple older cars – the last one a 1955 DeSoto.  He enjoyed friendships, going on road trips, and exhibiting at car shows with the car club. He also enjoyed curling on a men's team for a few seasons as well. In 2014 Dennis and Gladys moved back to Edmonton to be closer to family.    An avid reader he was always passing along his completed books.  He enjoyed writing short stories and was involved with local writing groups in the Edmonton area.
Dennis was pre-deceased by his parents Robert and Cora Wilson.  He is survived by the love of his life Gladys having celebrated 62 years of marriage; Daughter, Sandra (Mike); Son, Rob; 5 grandchildren; Michelle, Lisa, Ashleigh (Cole), Evan, Matthew, and great grandson Bryson.
A celebration of Dennis' life will be held for immediate family as per his wishes.  In lieu of flowers donations may be sent to: The Gideons International in Canada or The Mustard Seed