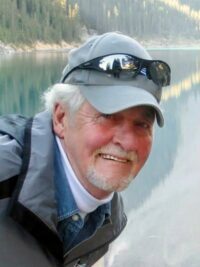 Dennis Micheal Dashney
January 27, 1947
-
April 24, 2021
On Saturday, April 24, 2021, Dennis Micheal Dashney, loving husband, dad and grandpa, passed away at the age of 74.
Dad was born during a good old southern Saskatchewan snowstorm on January 27, 1947 in Stoughton, SK to Allan and Margaret (nee Wanner) Dashney. Maybe that's the reason Dad always liked blizzards and thunderstorms – but only if all the family members – humans AND animals – were safe and sound inside the house with him. Otherwise he'd worry for their safety. 
Dad grew up on the family farm in Griffin, SK and when he wasn't doing his chores, he was playing baseball. And sometimes baseball got in the way of his chores! But Dad wasn't just any baseball player, he was known for miles around as the best pitcher in southern Saskatchewan. 
School wasn't really Dad's thing, so after grade 10 he decided to enter the workforce. He worked on power lines all over Saskatchewan and then did a stint at grain elevators before attending the welding program at Keyano College in Fort McMurray, AB. In his 40+ years of welding he was well-respected not only for his welding ability but for his work ethic and his character. 
Dad met Mom one day in 1969 when he was the driver for one of Mom's friends who came from Guernsey, SK to Wynyard, SK with Dad and another fellow who was supposed to be Mom's blind date. Mom and the other fellow didn't hit it off but as she was sitting in the back seat, she noticed that Dad kept looking at her in the rear-view mirror. Dad drove back to Wynyard by himself the next day to see Mom and their romance began. 
Dad and Mom were married on July 4, 1970 in Yorkton, SK and one month later they welcomed their daughter, Shawna, into the world. Reproduction times must've been shorter back then! 
In November 1977, Dad and Mom completed their family when they adopted Micheal. The pride and joy Dad had the day they went to get Micheal was second to none. 
Dad was a quiet man, more of an observer than a talker, and he enjoyed the simple things in life: his morning cup of instant coffee while listening to the country music radio station; a drive down country roads with Mom; a game of three-spot and his and Mom's daily matches of spite and malice; watching and listening to Canada geese as they'd fly overhead. Dad also loved to plant a garden and flowers and he truly was the best riding-lawnmower driver! When they lived in Wynyard he loved getting on the mower as often as he could to cut the grass. Mom affectionately called him "Farmer Dennis." Dad took pride in a well-manicured yard and many people commented on how good the yard always looked. 
Dad was also an animal-lover and animals loved him. Throughout the years he lavished attention on many four-legged family members. When Dad and Mom had their cats, Paws and Shady, he wouldn't sleep unless both cats were in the house for the night. Dad would often tell the story of when he was growing up and his Dad always gave the cows extra hay at Christmas. Dad seemed to give all his animals extra everything all the time!    
Dad was old-school. He didn't care for technology, paid cash for everything, and gave age-old advice:
Money doesn't grow on trees.
Make sure you have enough gas to get there.
Do as I say, not as I do.
Put something on your head – you're going to catch a cold.
You know what happens to the big wheel.
A rolling stone gathers no moss.
Over the years, Dad proved himself to be a rather good baker – mixing up everything from     old-fashioned cake doughnuts to successfully making a batch or two of Amma's fudge (not an easy feat!). And at Christmas and Thanksgiving he'd always be in the kitchen (and sometimes underfoot!) helping prepare the meal. His favorite foods and beverages included spaghetti; Shawna's lasagna and brownies; cinnamon buns; olives; hard cheese; peanut butter; chocolate milk; orange crush and peanuts – together – he'd dump the peanuts into the orange crush bottle; halva at Christmas time; and most recently, Zoodles! 
On November 7, 2019 Dad and Mom were blessed with their first and only grandchild, Declan. Dad was thrilled to be a grandpa and enjoyed many visits with Declan and watching videos of the little guy's various antics. And a few months ago, out-of-the-blue, Dad asked Mom to buy a baseball glove so that he could give it to Declan. Dad was so happy and proud when Declan put on the glove.  
Dad was a homebody, and it was difficult to get him to go anywhere other than the Wynyard Corner Service garage for daily visits with Jerry and the boys, or, after Dad and Mom moved to Lloydminster, to Rick and Laurel's for coffee or supper or a three-spot game. However, Mom did manage to get him to go to Mexico a couple of times and when he got there, he truly enjoyed himself – not to mention the Miami Vice drinks!
When Dad went into the hospital on March 15, he, and everyone else, thought he'd be back home with Mom in a few days. But God had other plans – and took Dad home with Him. 
Dad is survived by his wife and best friend of 50 years, Sharron (nee Goodman); daughter, Shawna (husband Mike and grand dogs Sonny and Rosa); son, Micheal (wife Laurie; grandson Declan; grand dogs Diesel and Vayda); sister, Agnes; brothers, Jim (wife Joan); Don (wife Shirley); Ray (wife Darlene); in-laws, Ken (wife Linda); Gloria (husband Henry); Laurel (husband Rick); god-daughters, Angela and Breanna; and many nieces, nephews, family, and friends too numerous to list but not forgotten. 
Dad was predeceased by his parents, Allan and Margaret Dashney; father-in-law and mother-in-law, Sveinn and Valdis Goodman; brother-in-law, Gordon; infant son, Dean; and numerous beloved pets and grand pets – all of whom we know greeted Dad in Heaven and were waiting for him to give them cream, fish, dog bones, carrots and belly-rubs.
In lieu of flowers, the family requests that donations be made to your local animal rescue organization or to the Memory Loss Foundation (www.memorylossfoundation.ca) which provides resources for Canadian seniors battling Lewy Body Dementia and other types of dementia.
A celebration of Dad's life will be held at a later date.
Dad, you will be forever loved and missed.