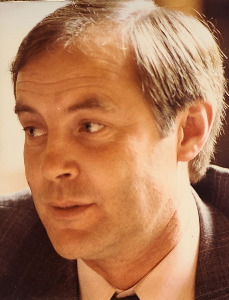 Dennis (Ted) Edward Swiffen
June 25, 1946
-
December 12, 2022
Dennis (Ted) Edward Swiffen, 76, of Edmonton, died at home and surrounded by family on Dec. 12, 2022. He was born on June 25, 1946 in Calgary, Alberta.
Ted worked his way up in the transportation industry until he retired to an acreage as he had always dreamed. Later, he lived with his family in Edmonton and was a daily presence in the lives of his grandchildren. Ted married Cathy Lyness on March 11, 1978 and they had three children, Amy, Timothy and Carly. He was a good man and beloved by his family.
Ted is survived by Cathy, his children, grandson Samuel, granddaughters Elliott and Everen and sisters Pam and Terri.
He was preceded in death by his parents Ruth (nee Hulbert) and Dennis Swiffen.
A celebration of Ted's life will take place on Jan. 4th at 10 am at Trinity Funeral home 10530 116st, Edmonton.
Memorials or donations may be made to The Inuuqatigiit Centre for Inuit Children, Youth and Families.