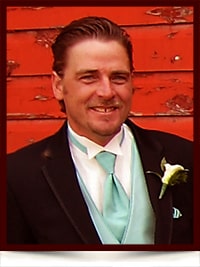 Derek Anthony Hyde
On Tuesday, June 13, 2017 Derek Hyde of Edmonton passed away at the age of 44. He is sadly missed by his "three girls", wife Nicole, two daughters, Madison and Emily-Francis; brothers Jeremy Tyler (Elyse) and Donald (Megan) and his daughters Hope and Kaidence. Derek will also be missed by his uncles Brett (Wendy) and Jerry (Helga); cousin Jeremy Chad (Chrissy) and their daughter Kaitlyn: his parents, Rick Hyde (Lucie) and their two daughters Jessica and Dominique and Terry Dube (Joanne) his Grampa John, aunts Linda and Rosie.
Derek was predeceased by his loving mother Deloris, grandparents Bernadette and Jerome Hummelle, his uncle Jim and aunt Edith and stepsister Sally. Also leaving to mourn his loss is his best friend Bruce as well as numerous other relatives and friends.
Celebration of Life
Saturday, June 17, 2017 at 2:00 pm
Trinity Funeral Home Chapel
10530 116 St.