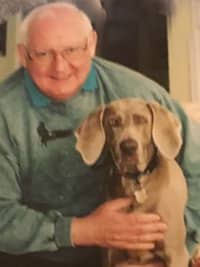 Derek Wallace Gove
(Father Theodore)
Its is with heavy hearts that the family of Fr. Theodore announce his passing on March 2, 2021.
He leaves to cherish his memory, his sister Heather Gove.
Derek was predeceased by his parents, Wallace and Kathleen.
Fr. Theodore was born and raised in Edmonton, where he received a B.A. and B.Ed. degrees at the University of Alberta, as well as pursuing graduate studies in history and educational administration there. He taught high school for a number of years, as well as serving on the Board of St. Barbara's Cathedral, and on the Bishop's counsel of the Russian (Patriarchal) Orthodox Diocese, centered in Edmonton. He studied theology at the Gregorian University/Russicum in Rome. It was there that he received his STB degree, and then completed graduate studies in theology in at St. Tikhon's Orthodox Seminary in Pennsylvania (MDiv.), and the Newman Roman Catholic Theological College in Edmonton (MTh). He was ordered to the Priesthood by Metropolitan Soterios of the Greek Orthodox Metropolis of Canada in 1980, and appointed to serve a small Ukrainian Orthodox parish in Edmonton which, at the time, was canonically part of the Greek diocese. Subsequently, he served as pastor of St. George's Greek Orthodox Church of Edmonton and a brief stint at Ypapanti Greek Orthodox Parish in Victoria, before coming to serve the parish in Prince George at Easter of 2000. Fr. Theodore is a tireless advocate of the need to create strong, indigenous Orthodox Church in Canada, capable of fulfilling our Lord's mandate of bringing the saving message of the Gospel to our entire nation.
A private family interment was held, and Derek is resting at Evergreen Memorial Gardens.