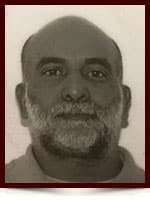 Dhanapalan (Dan) Naidu
On June 2, 2016 Dan passed away suddenly at the age of 51.
Left to mourn him are his sister Sandra, niece Tarin, nephews; Elton, Wayne, Roland, Raven and Priyen, cousins from Canada; Sam, Marlin, Haloshini, Vimla, Prem, and Kogie, cousins from South Africa, aunts Savithree and Pushpa, sister in law Lola and numerous close friends.
Being predeceased by most of his family, Dan's dear friends; Singapore Mike, Abe, Les, Devlin, Ned, Roman, Manny, Tom, Randy, RonRoc and Gary along with the crew at 'The Pit' made him feel connected to his South African roots which he dearly missed. His 'Feed', outgoing nature and love of a good party will be greatly missed by all.
Cremation Ceremony
Saturday June 11, 2016 9:30 AM
Trinity Funeral Home Crematory
12134 66 Street, Edmonton AB