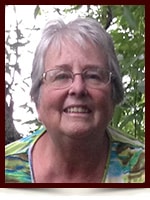 Diane Lucille Marie Desbiens (McDonald)
June 17, 1951 – November 15, 2017
Diane had a big heart and on Wednesday November 15, 2017 it gave out. She suffered a heart attack and passed at the University of Alberta Hospital in Edmonton, Alberta.
She is survived by her husband Henry, her daughter Michelle (Steven Minken), her son Henri and grandchildren Deanna and Nicholas Minken. She leaves behind her mother Jeannette McDonald (Remillard), her sister Joy (Zaheer Butt), her brothers Larry, Garry (Kathy Soroka), his daughter Kiley (Aaron Van-Eck), Mark (Pam Joseph) his children Sherry (Tearel McMoore) and Scott (Carol), Bruce (Tracey Geddes) and Dennis (Bernadette Rose). She was predeceased by her father George McDonald on February 7, 1970.
Diane was born and lived in a small neighbourhood in St. Boniface and from the very beginning was talkative and outgoing. Her mother had to take her little brother Larry to the doctor when they were young. Larry wasn't talking, and his parents were worried something was wrong. The doctor said the only thing wrong with him is that he has an older sister who likes to talk and answer for him. She made friends everywhere she went and kept in touch until the last day of her life with them. With the invention of Facebook she was able to reach out and talk to people at home and around the world on a daily basis. She not only kept in contact with old chums, but made new ones easily, even without ever meeting them face to face. She attended King George Elementary School and Queen Elizabeth Jr. High and she went to high school at Nelson MacIntyre School in Winnipeg. After graduation she went on a road trip adventure out west with some friends. Her mother said she ran away, but she always said she did say good bye to everyone, so she never considered it running away. She often spoke of her time at Aunt Sally's farm and how much fun she had there. She will be greatly missed as she was the one who knew what everyone was up to. We thought of her as the matriarch of our family, if you wanted to know something, you phoned Diane.
Diane's extended family lived in Vivian, Manitoba. She spent many days on "The Farm" visiting her grandparents, uncles, aunts and cousins. So many of her fondest childhood memories were created there. She often mentioned spending time there with her cousin Laurel. How they would play and get into fights always to make up in the end. Diane and Henry got married on June 21, 1969. They lived for a short time in Winnipeg and then moved to Vivian in 1973. They lived in a rented house on one end of the town and in 1977 moved to a house on the other side of the town where she lived the next 40 years. Many called her the Mayor of Vivian, she always had a laugh about that.
Over the years Diane did many jobs to help her family. She sold Avon, Canadiana Craft, which was ceramic home décor, babysat the local kids, worked at the convenience store in Norse, MB. She later got a job at the Golden Oak in Transcona cleaning rooms at the hotel. She went on to work at Reitman's clothing store in Kildonan Place Mall in Winnipeg. She really hit her stride there as she put her gift of gab to good use and worked her way up to assistant manager. She retired in the mid 2000's from retail, but helped her husband run his own automotive and small engine repair business.
Diane was a creative person. She did many types of crafts over the years. She loved doing embroidery and many people have pillow cases or quilts she hand-stitched. She found the love of a new hobby in 1999, scrapbooking. She spent countless hours making family albums. Every picture anyone ever sent her ended up in her family albums. There are literally hundreds of pages all organized by family grouping. It's incredible! Her handmade cards were cherished by everyone. She always took time to think of the person and make them a one-of-a-kind individual design. She also loved cooking and baking. Many times, people would drop in and see a counter full of cakes, pies or bread. She often took a recipe and tweaked it to make it better. She was forever looking at magazines and cookbooks to find something delicious to make. For many years she hosted the family Christmas dinners. Not only was the food abundant so were the Christmas decorations in her house. She had every surface covered in festive décor, including the ceiling and bathroom.
Diane will be greatly missed. Words will never express the sadness we all feel. We are all grateful for her words of wisdom and guidance, even if at times we thought she was being bossy. For some reason she was usually right about everything, to our frustration. In lieu of flowers please Pay It Forward. Donate to the food bank or charity of your choice. Be nice to someone, give a smile. Lend a hand, be accepting. Think of her when you do those things.
A memorial for Diane will be held in Manitoba in the summer.