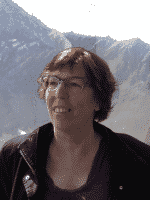 Dianne Lubinski
It's with sorrow that we announce the peaceful passing of Dianne Lubinski on July 6, 2018, with family by her side. Her memory will be lovingly cherished by her devoted husband Don, son Zach, brother John (Deb); and nieces and nephews. She was predeceased by her parents, Mary and Stewart (Bud) Parfett, and one brother Jim.
Dianne grew up in Fort Saskatchewan, Alberta and went to the University of Alberta where she graduated with a Bachelor of Science degree in 1982. She chose to work in information technology. She did programming and systems analysis work in the 80's and 90's, when few women selected this field as a career. She gave birth to Zach in 1992. Dianne chose to homeschool Zach and focused on making homeschooling a rich and vibrant experience. In 2003 she became heavily involved in SHiNE, a homeschool community support group. She served as president of this group from 2006 to 2007. When Zach started University, Dianne focused on fitness and volunteer work with Basically Babies, a charity that provides basic outfitting to families with newborn babies in extreme need. She continued this until health issues forced her to quit in 2013, when she was diagnosed with cancer.
The family invites donations to Basically Babies.
Friends and family are welcome to attend the celebration of life on Friday, July 13 from 10:00 a.m. to 1:00 p.m. Trinity Funeral Home is handling arrangements, 10530-116 Street, Edmonton, AB, Canada, T5H3L7, (780) 474-4663.