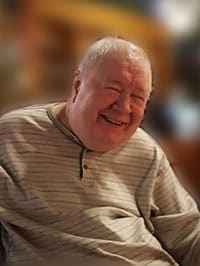 Dick William Bellamy
August 26, 1949 - April 22, 2018
It is with great sadness that we announce the passing of Dick William Bellamy on April 22, 2018.
Dick is survived by his wife, Kathy, mother-in-law Katie, sisters Robbin (Toby), Marlene (Gary), Bernice (Terry), and Chris, brothers Randy (Louise) and Derrick (Jerri), and numerous brothers and sisters –in –law, nieces, nephews, friends and relations.
He is predeceased by his parents and infant brother.
There will be a casual gathering on Wednesday, May 2, 2018 at 2 PM at Trinity Funeral Home 10530 116 Street in their Reception Centre. Please dress comfortably – no black.
In lieu of flowers please make a donation to your local food bank.