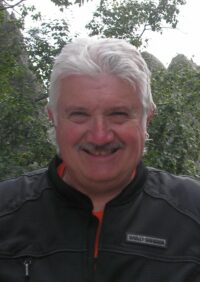 Don O'Kurley
May 22, 1951
-
December 2, 2022
With broken hearts, we announce that our beloved husband, father and grandfather passed away on December 2, 2022 with his wife Laurette Strong and children by his side.
Don was born in 1951 and was pre-deceased by his parents Nick and Mary O'Kurley who raised Don and his brother Brian in Lamont, Alberta where Donny met Laurette while they were in high school. They were companions through a very full and joyous life of adventure for more than half a century, marking their 52nd wedding anniversary just four days before Don's passing. They raised three children together Ashley (Sandra Beggs), Austen, and Avarey (Jeremy Amyotte) and delighted in every moment spent with their four grandchildren – Rainen, Amaia, Owen and Jaxson.
Don O'Kurley touched countless lives during his 71 years, embracing them with a warmth and gregariousness that was an undeniable force of nature. He softened hearts. He brightened spirits. He evoked the laughter inside of people, always seeking to bring out some humour wherever he went. He was adamant about treating people with kindness and respect, always looking for the little ways to connect where he could bring some light in to make people's lives better and their difficulties a little easier to bear.
Don's wishes were to be cremated and his ashes interred at the Fort Saskatchewan Cemetery in a private ceremony with his immediate family. All extended family and friends are welcome to be part of the community that will be gathering during May long weekend in 2023 to celebrate the impact that this marvelous man had on so many lives.
Please visit www.DonOKurley.com where you can view photos, include yourself in our mailing list to stay updated on plans for May long, share your thoughts and memories of this remarkable life and even upload your own photos for inclusion in the Photo Gallery of Don's life.
Don believed strongly in supporting your local community. Donations to your favorite local charity are encouraged along with your support for the Alberta Cancer Foundation.