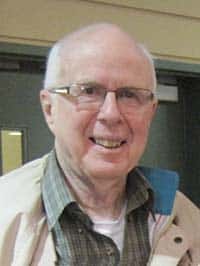 Donald Alan Macgregor
March 5, 1935 - March 20, 2018
It is with great sadness we announce Don's unexpected passing on March 20, 2018, at the age of 83. He will be lovingly remembered by his wife, Wally (Linnemann, nee Hennig). Don was predeceased by his first wife, Liz (nee Milligan), in 2009 and is survived by children Laurie (Bruce), Jim (Lynnette), Jody (Rick), David (Kathy); and grandchildren Quinn and Skye; Aidan (with partner Josefin) and Liam; Geoff, Kelly and Jamie; and Emily and Alice. He will be dearly missed by Wally's daughters Leane (Randy), Angela and Anita; grandchildren Jennifer, Amanda, Sarah, Simon, Aaron, Stephanie, David, and Ashley; and great grandsons Alexander, William, and Atticus. Don was also predeceased by his parents, Marjorie and Dr. John Macgregor, and sisters Jane and Marnie. Don ("Grandy") leaves behind many family members and dear friends, including Bud and Margo Pals and Frank Graves.
A native of Edmonton, Don was an alumnus of the University of Alberta (BA, 1956). After graduate studies, he served for many years in hospital administration, starting at the Misericordia Hospital in 1967 and retiring from the AHA in 1991. Don lived his life to the fullest and had a great sense of humour. A disciplined man with tremendous will power, he worked hard to maintain his fitness. He played countless pick-up basketball games, competed in the 2005 World Masters Games, and his love for basketball lives on in successive generations. He also pitched for his seniors slow pitch team until age 81. There were many camping trips to Mara Lake as the family grew up. Don was an avid reader and keen observer of politics, the weather and birdfeeders. He enjoyed music and the arts, and was a mentor to many. A bountiful garden and freshly mown lawn greeted all visitors to the 'Croft'. For the past seven years Don and Wally travelled the world. He loved and was so very proud of his families.
A celebration of Don's life will be held on March 28, 2018, at 11:00 a.m. at Holy Spirit Lutheran Church, 11223 - 51 Avenue, Edmonton, Alberta. Memorial donations gratefully accepted to the Edmonton Public Library Children's Literacy Fund, the Alberta Baroque Music Society, the Red Cross, or the Canadian Mental Health Association (Distress Line). Microloans through Kiva.org also appreciated.