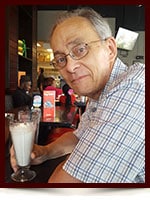 Donald James Hunt
It is with great sadness that we announce the passing of Donald James Hunt.
Don passed away peacefully surrounded by his loving family on December 27, 2017. Don was an avid golfer for much of his life, and was the kindest, most generous man you could hope to meet. When he was not busy working as a Chartered Accountant (NOT a CPA), he was doting on his family and sneaking sweets (that he knew he shouldn't be having, but he loved anyway).
He is survived and missed by his wife, Veronica, his children, Alison (Oliver) and Sam, step-children, Holleay and Curt, his brothers, Ron (Laura), Brian (Jody), and Norman, his extended family, Krista (Michael), Kyle (Jill), Shawn, and Shannon (Dan), and his furry friends, Buddy and Chappie.
Unlax, Bugsy. We love you.
In lieu of flowers, donations may be made to the University Hospital Foundation, to benefit the Mazankowski Heart Institute, which took such great care of Don.