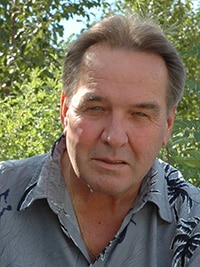 Donald Robert Thompson
Don passed away suddenly Feb 24, 2018 at his home in Edmonton.
Born May 22, 1949 in Mannville, Don grew up on a farm. The family moved in 1957 to Edmonton, where he attended Strathcona and played football. He also competed in rodeo. In 1970 he began working at Pacific Valve Services, becoming one of the owners and managing operations until 1997. Don always had a sense of adventure and enjoyed skiing, road trips, travelling, boating, photography, and gold panning. He liked reading John Grisham, watching James Bond, and hanging out with his friends. Don adored his grandchildren Lucas and Alenah. He was predeceased by his parents, Joseph and Marjorie. Don had married three times, with Marilyn, Jackie, and with Rita, for whom he remained a caring friend.
He will be missed and lovingly remembered by his brother Gilbert (Rhonda), son Jordan (Mónica), and stepchildren, Paige and David, and Jonah, Ryan, Jeremy and Sean.
Celebration of Life
6:00PM - 8:30PM Friday March 9, 2018
Kingsway Legion
14339-50 Street Edmonton, AB