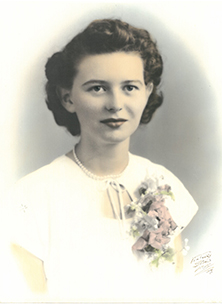 Donelda May Johnson
March 17, 1928
-
August 9, 2021
Donelda May Johnson, 93, of Edmonton, AB went peacefully to be with the Lord on August 9th, 2021.
Donelda was born in Manitou, MB to the late Hugh and Violet Cook. She grew up on the farm and went on to become a teacher. She then met Dr. Jake Johnson in 1956, while she was attending Winnipeg Bible College. They were married and immediately went to India as missionaries, where a ministry was founded which thrives to this day.  She was a loving and supportive partner to her husband to the very end of their various ministries.
Donelda will meet her dear husband who went to glory before her in 2015. She will also meet her brother, Bill and his wife, Elaine, as well as her parents and many friends and family who were waiting for her.
She is survived by her sister Zelly (George) Rechner and Zelly's 2 sons, Randy and Hugh. She also leaves behind her daughter, Shirley and 3 grandchildren, Sukhi, Raji (Adrienne) and Kinni, as well as 3 great grandsons, Emi, Jaren and Everest.
All the members of her extended and Indian family will miss her dearly, as will the many people whose lives she has impacted all over!
Her homegoing service will be held at 11 am on August 23rd at Trinity Funeral Home, 10530 - 116 Street, Edmonton, AB.
Memorial donations can be made to Global Baptist Missions through Cornerstone Baptist Church.  We know she will be hearing, "Well done, thou good and faithful servant... Enter thou into the joy of thy Lord" (Matthew 24:21)