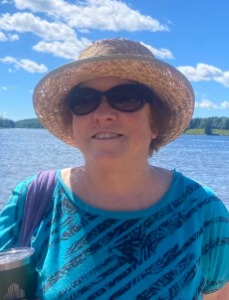 Donna Ann Thompson
February 2, 1950
-
December 29, 2022
With profound sadness, the family announces the passing of Donna Ann Thompson of Meanook, AB, formerly of Edmonton, AB and Miramichi, NB. Donna passed away on December 29, 2022, at 72 years of age.
Donna was a dedicated Registered Nurse for many years throughout New Brunswick, Ontario, and Edmonton before her retirement. As a nurse, she worked in many aspects of the Health Care system and different offices, from Oral Surgery to Emergency to ICU.
Donna's boys meant the world to her. She was the kind of mom who was always there for them and ready to help no matter what. She gave all her love and effort to provide every opportunity her sons could wish for.
This love and dedication continued when she became a grandmother. It was no big deal for her to drive from her home in Meanook to Edmonton for the afternoon to watch her grandchildren's hockey games or judo fights. Donna loved spending time with the grandkids and was always willing to take them for a long weekend or even a week. She loved her family more than anything and would go anywhere to see her family's joy.
Donna was survived by "her three boys"; Her husband of 43 years, Christy; her son Tugger and wife, MaryBeth; her son Jarett and partner, Harmony; and her pride and joy grandchildren, Braelyn and Bryce. She also leaves her brother Billy Cleland of Fredrickton and sister Margaret Cleland of Saint John, New Brunswick.
Donna will be missed by numerous friends that span three generations from across the country, as well as many nieces and nephews.
Donna was predeceased by her parents, Donald and Yvette Cleland, her sister Karen Cleland and her beloved dog Blu.
A small service will be held on January 18th at 1 pm at Trinity Funeral Home 10530-116 Street Edmonton, AB, with a Celebration of life held in Perryvale at a later date.
In lieu of flowers, donations can be made to the Perryvale Community Hall Society or the Athabasca Healthcare Centre Auxillary.