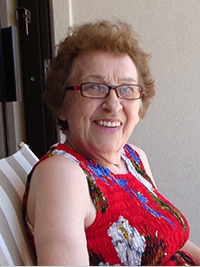 Doris White (née Rolls)
February 25, 1927 – March 1, 2018
It is with heavy hearts and happy memories, that our family announces the peaceful passing of Doris White (née Rolls) at age 91, in Edmonton, Alberta. Predeceased by her loving husband Matthew, son Randy and daughter Jocelyn. Survived by her sister Evelyn Fifield, age 101, of Ottawa, Ontario. Loving mother to Glenn (Jeannie and daughters Katie and Cassie), Tracey (Derek and daughters Alexandra, Ashley, Anna and Abigail), Rosalind (daughter Tina and husband Dave, and son Chad), Barbara (daughters Jaime and Faith, and son Frank), Darwin (Rose and son Jason). Granddaughter Jessica (husband Ryan). Great grandchildren… Skyler, Paige, Aiden, Quinn, Owen, Ben, Jocelyn, and Bronson.
Doris will be remembered for her sense of humour, bright smile and insatiable sweet tooth. Growing up in Newfoundland, she never particularly liked the ocean. However, she loved watching the ships sail across the ocean especially when visiting Hawaii on vacation. She will be dearly missed by all, most especially by her little buds Coco and Luna.
Thank you to everyone at the Misericordia Hospital for helping in her final days, notably Glennie and Joan. As well as everyone who supported our family in making her last months more comfortable.
To respect Doris's wishes, a private family gathering will take place at a later date.
In lieu of flowers, donations can be made to:
Juvenile Diabetes Research Foundation
17312 – 107 Avenue, Edmonton, AB T5S 1E9