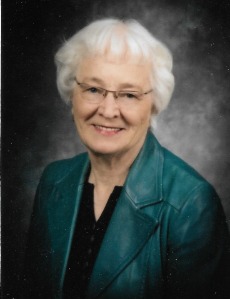 Dorothy Elaine Augustson
September 29, 1930
-
November 27, 2022
Dorothy Elaine Augustson (Nee Norlander) passed away November 27, 2022 at the age of 92. She was born September 29, 1930 in Norquay, Saskatchewan to Genoveve and Otto Norlander. She is predeceased by Bobby, her loving husband of 71 years and one day, her brother Arnold, sister Helen, and her daughter Twylla.
Always known as Elaine, she leaves behind to celebrate her life, her children and their spouses: Calvin (Laurel), David (Diane), and Nola (Jim); granddaughters Janesta, Candice, Kelly and Christie and their families; her sisters Doris and Linda and their families; and numerous other people who have been touched by her generosity, kindness, and art through the years.
Elaine and Bobby married in Norquay and soon moved out west to find their future! While Bobby found their financial way Elaine created a home with her imagination and handiwork which could only be called art. Growing up in the depression, she was very aware of not wasting anything and this became a driving force in her creativity. She made clothes for herself and her family, some of which are still in circulation today in the form of hand-me-downs. Elaine created a home filled with homemade food and kept the traditional Swedish dishes alive, like pult, fil, potato sausage, and flatbread to name a few. She was a woman of great determination and was committed to perfection. Constantly trying the next craft or artwork meant the term "homemaker", in her hands, was an art form.
Elaine had an incredible green thumb and loved to nurture plants. Bobby said more than once they really only needed a trailer in the summer because Elaine spent all her time in the garden. Her garden, aside from being useful to feeding the family, was a place where she could contemplate, create, and experiment. All things she loved.
Her Swedish heritage was something she valued very much. The term Swedish-Canadian is something she would have loved to be described as. Keeping not just the cuisine, but the aesthetic and language of her beloved Sweden alive and well, was always in the foreground. Even in her later years, she took to updating her Swedish to be more contemporary and less the old-language she learned growing up.
Elaine loved to weave. She began weaving because a loom fell off a truck in front of her and Bobby while driving down the road. When the owners didn't return to pick it up, the waste-not, depression instinct, thought process spurred her to bring it home, fix it up, and then proceeded to teach herself the basics until she found the Strathcona County Weavers Guild which shared the same love and spurred on her creativity. Weaving spoke to her Scandinavian loves; the tradition of it, the aesthetic of the loom, and the table runners, place mats, rugs, and blankets honoured her Swedish roots and thrilled her to no end.
The bond that linked all of this together was her ongoing faith. At a young age, Elaine learned about Jesus and His love for her. She and Bob were committed to the Edmonton Covenant Church from its inception. Elaine had a personal relationship with God which was a guiding principle in her daily life, marriage, and household.
In memory of Elaine, and in lieu of flowers, her family encourages you to do something we think would have made her smile; support local artists and craftspeople. Take the time to notice, encourage, and appreciate the heart put into each piece. No matter what the level of skill, thank someone for sharing their gift.