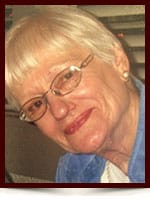 Dorothy Jean Kruger
KRUGER, Dorothy Jean
Born in London, England Dorothy grew up in Heston beside Heathrow Airport. During WWII she spent many hours in bomb shelters leading to her dislike of basements. She worked at Gillettes till 1954 when she sailed to Canada. Dorothy's second home was on a farm east of Edmonton after the invitation of pen pal Bunny Stevens. Three years later Dorothy returned to England for a holiday. This trip only served to make Dorothy yearn to return to her new home, Canada. In 1958 Dorothy met Otto and they were married April 25, 1959. On April 18, 2014 Dorothy left for her real home after a years battle with cancer.
She is dearly missed by her husband Otto, son Alan (Mary), daughter Karen and grandchildren Amanda, Sarah, Jessica, Leah, Lyndon and Lana.
A Memorial Service will be held April 25, 11:00 am at Kingsway Legion, 14339 - 50 St., Edmonton.